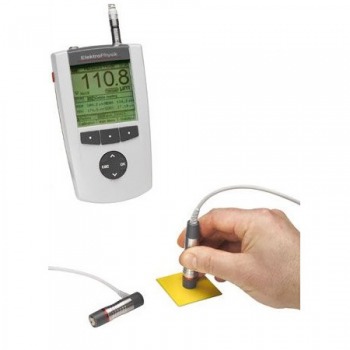 Click on an image for a larger image
MiniTest 7400 High-precision Coating Thickness Gauge

Different sensors available for measuring up to 35 mm
Designed for measuring coatings, the MiniTest 7400 Coating Thickness Gauge is used for measuring non-magnetic coatings and insulating coatings on all metal substrates, like steel or non-ferrous metals. A five-point-calibration of the sensors ensures very precise measurements.
The intuitive menu control of the MiniTest 7400 enables high ease of use. For difficult measuring tasks the integrated configuration assistant simplifies the calibration and parameter settings – specific skills are not needed. The MiniTest 7400 is provided with the "MSoft 7 Professional" PC Software package to evaluate and export measuring results in various data formats (text documents, Excel spread sheets, PDF) to your PC. Multiple interfaces make connections with other peripheral devices possible. Application ranges vary by sensor type. Checkline Europe offers different kinds of standard and specific sensors, e.g. rugged sensors with a grout sealing for harsh environments. Application examples are among others the measurement of non-magnetic coatings on steel, paint, enamel, plastic coatings, small parts, thin coatings, rough surfaces or protective coatings in tanks and pipes, etc. Please refer to the sensor type description below for detailed information.
For non-destructive measurements on all metal substrates
Intuitive menu control
PC software for configuration evaluation and data reports
Data memory for up to 250,000 readings
LC graphic display with multiple display options
Configuration assistant for enhanced data management
Wear resistant sesnsors for various measuring tasks
Multiple statistic analysis functions
SIDSP technology for accurate and reproducible readings
15 different sensors are available for the MiniTest 7400. Each sensor is available as a HD version for harsh environments. Please refer to the accessories for more details.
F-Probes for non-magnetic coatings on steel:
F 0,5: 0 – 0,5 mm


F1,5: 0 – 1,5 mm


F1,5-90: 0 – 1,5 mm


F2HD: 0 – 2 mm


F5: 0 – 5 mm


F15: 0 – 15 mm


F35: 0- 35 mm



N-Probes for insulating coatings on non-ferrous metals:
N0,2: 0 – 0,2 mm


N0,7: 0 – 0,7 mm


N0,7-90: 0 – 0,7mm


N2,5: 0 – 2,5 mm


N7: 0 – 7 mm



FN-Probes for both non-magnetic coatings on steel and insulating coatings on non-ferrous metals:
FN1,5: F: 0 – 1,5 mm / N: 0 – 0,7 mm


FN1,5-90: F: 0 – 1,5 mm / N: 0 – 0,7 mm


FN5: F: 0 – 5 mm / N: 0 – 2,5 mm



The MiniTest 7400 will be delivered as a complete kit, including:
MiniTest 7400
MSoft 7 Professional Software
Manual, available in English, German and French
4 AA cells, type LR06
Plastic carrying case
MiniTest F-Probes Probes for non-magnetic coatings on steel
Different probes for non-magnetic coatings on steel
Measuring range up to 35 mm coating thickness
More details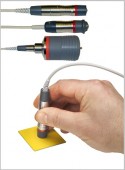 MiniTest N-Probes Probes for insulating coatings on non-ferrous metals
Different probes for insulating coatings on non-ferrous metals
Measuring range up to 7 mm coating thickness
More details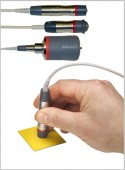 MiniTest FN-Probes Sensors for non-magnetic and insulating coatings
Different probes for both non-magnetic coatings on steel and insulating coatings on non-ferrous metals
Measuring range up to 5 mm coating thickness
More details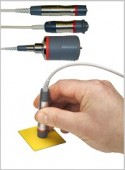 Max. number of batches
500
Max. number of storable readings
approx. 250,000 readings in total
Statistics (per batch)
number of readings, minimum, maximum, average, standard deviation, coefficient of variation, block statistics (norm-conforming/free configurable), process capability indices Cp and Cpk, histogram, trend
Calibration procedures according to international
ISO, SSPC, "Swedish", "Australian"
Calibration
up to 5 points, user adjustable offset value
Monitoring of limits
Visual and audible alarm for set limits
Measuring units
μm, mm, cm, mils, inch, thou
Operating temperature
–10°C … 60°C; 14°F … 140°F
Storing temperature
–20°C … 70°C; -4°F … 158°F
Power supply
4 x AA (LR06) batteries, or optional power unit (90 – 240 V~ / 48 – 62 Hz)
Norms and standards
DIN EN ISO 1461, 2064, 2178, 2360, 2808, 3882, 19840, AS3894; SS 1841 60, SSPC-PA 2, IMO-PSPC, ASTM B 244, B 499, D 7091, E376
Display
160 x 160 pixel LCD with backlight
Dimensions
153 mm x 89 mm x 32 mm;
6 inch x 3.5 inch x 1.3 inch
Weight
310 g; 11 oz. (gauge incl. batteries)