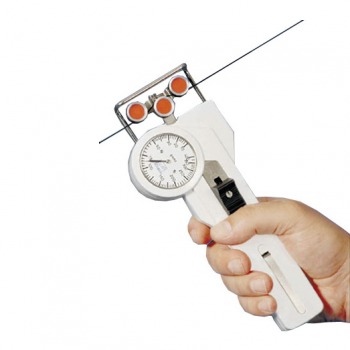 Click on an image for a larger image
DX2 Tension meter

A precise jeweled movement, choice of ball bearing mounted rollers and rugged cast aluminum housing makes the DX2 ideal for the toughest production floor application.
Built-in mounting holes permit fixed installation for continuous in-line use.

Built-in material thickness compensator maximizes accuracy when using filaments of different diameters. (Standard on model DX2-SP and higher ranges).
Thumb-operated, roller shifting mechanism and exclusive snare-guide automatically guides the moving filament into the V-grooves eliminating breaks and snags
Front filament loading permits the operator to observe running material, rollers and dial face at all times
DX2's are individually calibrated for highest accuracy
41mm Ø scale
DX2's hard-coated aluminum, V-grooved rollers are rated for speeds up to 2000 m/min or, optionally, up to 5000 m/min
Finger Support: We recommend mounting a finger support for higher tension ranges (included)

Certificate of Compliance with the order 2.1 according DIN EN 10204 is included
Optionally available: Inspection Certificate 3.1 according DIN EN 10204 with calibration report
Model
Ranges
Measuring Head Width* mm
SCHMIDT Calibration Material**
MTC***
DX2-50
10-50 cN
66
PA: 0.12 mm Ø
no
DX2-120
20-120 cN
66
PA: 0.12 mm Ø
no
DX2-200
20-200 cN
66
PA: 0.12 mm Ø
no
DX2-400
20-400 cN
66
PA: 0.20 mm Ø
no
DX2-1000
50-1000 cN
66
PA: 0.30 mm Ø
yes
DX2-2000
200-2000 cN
116
PA: 0.50 mm Ø
yes
DX2-5000
400-5000 cN
116
PA: 0.80 mm Ø
yes
DX2-8000
1-8 daN
116
PA: 1.00 mm Ø
yes
DX2-10K
2.5-10 daN
116
PA: 1.00 mm Ø
yes
DX2-20K-L
5-20 daN
216
PA: 1.50 mm Ø
yes
Other tension ranges and measuring head widths available on request.
Other units of measure available, such as g or kg.
* Depending on model, either width of filament guide or outer distance between outside guide rollers
** Suitable for 95% of applications - PA = Polyamide Monofilament
***MTC = Material Thickness Compensator

Special calibration using customer supplied samples is recommended, if process material differs significantly from the SCHMIDT calibration material in diameter, rigidity or shape. For this purpose a material sample of about 5 m should be supplied.
Code A: Air Damping
Code L: Special Lever
Code M: Memory Pointer

This adjustable mechanical air dashpot is recommended for applications in which great fluctuations of the measured tension occur, as in spooling and winding machines.
This assures steady tension readings on the scale.


Facilitates acquisition of the running material when measuring high tensions.
Reduces force necessary to extend outer rollers: Recommended for tension ranges of 10 daN and higher.


Retains the highest measured value (PEAK).
Available for mechanical tension meters.

DX2S Stationary Tension Meter
Fixed mount design for continuous measurement
DX2S' hard-coated aluminum, V-grooved rollers are rated for speeds up to 2000 m/min or, optionally, up to 5000 m/min
Option adjustable "max" & "min" tension detector contacts can provide a low voltage signal when tension exceed user-set limits
More details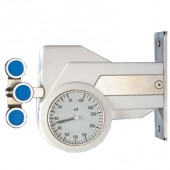 The DX2 Tension Meter is supplied as a complete kit including meter and instruction manual in a foam-fitted hard-plastic carrying case.

Calibration:
According to SCHMIDT factory procedure
Accuracy:
±1% full scale or ±1 graduation on scale
Temperature range:
10-45ºC
Air humidity:
85% RH, max.
Housing material:
Die-cast aluminium
Housing dimensions:
188 x 85 x 45 mm (LxWxH)
Weight, net (gross):
up to DX2-10K approx. 470 g (1000 g)
DX2-20K-L approx. 580 g (2000 g)
Maximum Speed:
2000 m/min (Standard)
2500 m/min (U)