RX-1000 Mini-Dial Durometer

The RX-1000 Mini-Dial Durometer is both compact and easy to use. Its small dial face and included leather clip-on carrying case make it easy for an inspector to carry the gauge- for work around the shop, or out in the field. The RX-1000 durometer holds the maximum reading until reset by pressing the button at the top of the gauge.
The max-hold feature and small dial size make the RX-1000 a good choice for hard to reach places, or for out of sight testing.

All RX-1000 models are supplied with a NIST traceable calibration certificate.

Includes NIST-Traceable Calibration Certificate
Increments of 1 from 0-100
Furnished with a leather carrying case
Easily fits into your pocket or clipped on belt
One year warranty
Conforms to ASTM D-2240
Small face
(42.5 mm / 1.675" Diameter)
RX-TBK-A Type A Durometer Test Block Kit
Enables the user to perform a quick check for proper durometer operation
More details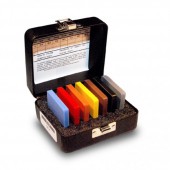 Cic-Duro Durometer Calibration
Exclusively NIST-certified testing equipment
Possibility to adjust and repair
More details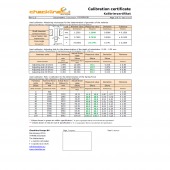 RX-DIN-FA ASTM to DIN 53505 Adapter for RX durometers
Special attachment gives you two gauges in one model.
With attached, the gauge confirms to DIN 55305 norm.
When taken off, the gauge is conform ASTM D2240.
More details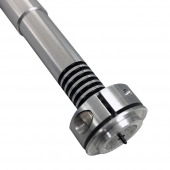 Category Durometer Stands
Durometer stands are used in combination with any of Checkline's durometers to help minimize the influence of the operator and to improve accuracy.
More details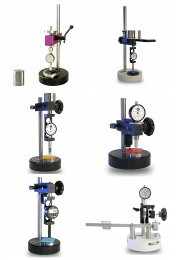 Type
Indentor Shape
Force
A

Flat cone point, 35º Included Angle
Soft rubber, plastics, and elastomers, printer's rolls.
822 Gr
B

Sharp cone point, 30º Included Angle
Harder elastomers and plastics. Paper and fibrous materials, Use above 93 Duro A.
822 Gr
C

Flat cone point, 35º Included Angle
Medium hard elastomers and plastics. Also useful to avoid surface marks.
4536 Gr
D

Sharp cone point, 30º Included Angle
Hard rubber and plastics such as thermo plastics, flooring and bowling balls.
4536 Gr
DO

3/32" Spherical
Dense granular material, textile windings.
4536 Gr
O

3/32" Spherical
Very soft elastomers, textile windings, soft granular materials. Use below 20 Duro A.
822 Gr
All mentioned prices are excluding VAT & excluding shipment costs.
Availability: Available , preorder 1-2 weeks , special order, request