RX-OS-4 Durometer Test Stand for Type OO & OOO

The RX-OS-4 Test Stand is designed for use with our RX type OO & OOO durometers. The stand, used in conjunction with our RX durometers increases repeatability while eliminating operator error.
The stand features a load weight for the proper testing pressure as noted in ASTM D2240, and a quick-lock column for easy adjustment.
The OS-4H features an a dampener that lowers the durometer at the same rate for each test, resulting in superior repeatability for all durometer tests
*Durometer Sold Separately
Compatible with RX-1600 & RX-DD Durometers


Eliminates operator error in the OO & OOO scales
Stainless steel and anodized aluminum construction
Compact size - 330mm (13") high x 153mm (6") wide
Total Weight approximately 4 kg (9 lbs)
Made in the U.S.A.
Optional Dampener further increases repeatability
RX-1600 Precision Durometer
Includes NIST-Traceable Calibration Certificate
Conforms to ASTM D-2240
Full 360 degree sweep
More details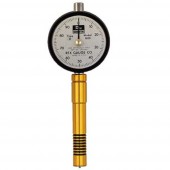 RX-DD Digital Durometer
Includes NIST-Traceable Calibration Certificate
One year warranty
Optional Removable Stainless Steel Barrel for Medical and Food Applications
More details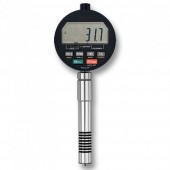 Sample Clearance
Height: 65 mm To Specimen Holder
Depth: 80 mm Durometer Center To Shaft
All mentioned prices are excluding VAT & excluding shipment costs.
Availability: Available , preorder 1-2 weeks , special order, request