OS-300-2 Durometer test stand

The
OS-300-2 Durometer test stand
enables accurate and repeatable Durometer measurements. The essential advantage of this test stand is that subjective test errors, caused by differing load application forces or non-vertical application of the durometer to the test piece, are ruled out.
The OS-300-2 durometer test stand works on the constant load principle. To conduct hardness measurements, the product sample is positioned on the support table. The support table is suitable for small and big samples. Lower the durometer shock-free by use of the manually operated lever. All measurement values are shown directly on the analogue durometer.
The durometer is made of rugged and light weighed aluminium and its height can easily be adjusted. The integrated crash ring on the column prevents crashes between the durometer and the support table.
Accurate measuring results with constant load principle
Shock free lowering & integrated crash ring
Rugged and light weighed aluminium housing
Suited for small and big sample sizes
Durometer weight shore D optional available
Meets the requirements of international norms: DIN 53505, ISO 868, ISO 7619, ASTM D 2240
OS-300-2-OO Durometer test stand for Shore OO Durometers
For hardness measurements according to durometer type OO
More details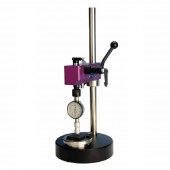 DD-300 Digital Precision Durometer
Highly accurate and repetitive
Timer function to take measurement after (0-15) seconds.
Conform to DIN ISO 7619-1, ISO 868, ISO 7619-1 and ASTM D 2240
No internal friction due to precision engineered bearing system for internally moving parts.
More details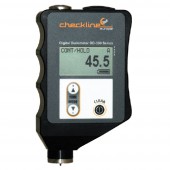 | | |
| --- | --- |
| Extension: | 115 mm |
| Diameter support table: | 98 mm |
| Maximum sample thickness: | 180 mm |
| Material: | Rugged aluminium design |
| Weight (net): | 16.4 kg |
| International standards: | DIN 53505, ISO 868, ISO 7619, ASTM D 2240 |
| Durometer types: | A, AO, D, B, C, DO, O |
All mentioned prices are excluding VAT & excluding shipment costs.
Availability: Available , preorder 1-2 weeks , special order, request