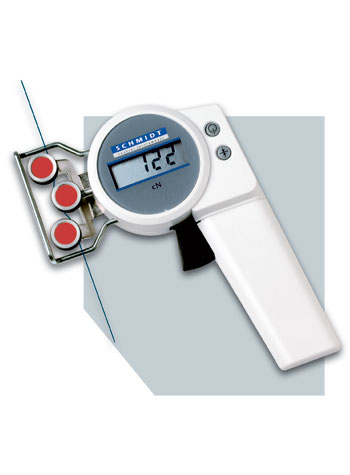 Click on an image for a larger image
ZED Digital Economical tension meter for limited acces

Economical low tension measuring instrument for checking fibers, yarns and fine wires in areas with limited acces. The ZED employs a strain-gauge system to measure the running line tension on a variety of yarns, fibers and fine wires accurately.
The running material can easily be acquired by the trigger-operated roller shifting mechanism. The single-button automatic zero permits operation in any orientation and guarantees simple operation and highest accuracy.
Simple handling
Adjustable damping
Filament guide and roller shifting mechanism ensure easy acquisition of the running material
Battery operated
Ball-bearing mounted, V-grooved guide rollers
Certificate of Compliance with the order 2.1 according DIN EN 10204 is included
»Auto-Zero setting« using a push button for measurement in different measuring positions
Easy to read LCD display
Light weight
Everything in operator's view:
- the guide rollers
- the measured material
- the readings
Housing made of high-strength plastic
Optionally available: Inspection Certificate 3.1 according DIN EN 10204 with calibration report
Model
Ranges
Measuring Head Width*
Calibration Material**
ZED-200
1-200
63 mm
PA: 0.20 mm Ø
ZED-500
1-500
63 mm
PA: 0.20 mm Ø
Other units of measure are available, such as g.
* Width of filament guide
** Suitable for 95% of applications - PA = Polyamide Monofilament

Special calibration using customer supplied samples is recommended, if process material differs significantly from the SCHMIDT calibration material in diameter, rigidity or shape. For this purpose a material sample of about 5 m should be supplied.
ZED Models
This model is recommended for all other applications where miniaturized rollers are not necessary.
Delivery includes:
Tension meter with carrying case and batteries, operating instructions in English or German as requested

Calibration:
Manufacturer inhouse certificate
Accuracy:
±1% full scale ± 1 digit or better
Overrange (approx.):
10% full scale, without accuracy guarantee
Overload protection:
100% of tension range
Measuring principle:
Strain gauge bridge
Measuring roller deflection:
0.5 mm max.
Damping:
adjustable
Signal processing:
digital
A/D converter:
12 bit
Display:
3-digit LCD, 10 mm high
Display update rate:
0.5 seconds
Self-frequency:
250 Hz
Auto Power off:
After 3 minutes of non-use
Temperature range:
10-45ºC
Air humidity:
85% RH, max.
Power supply:
2 size AAA batteries 1.5 V
(about 30 hours of continuous use)
Housing material:
High-Impact-Plastic (POM)
Housing dimensions:
157 x 85 x 32 mm (L x W x H)
Weight, net (gross):
approx. 200 g (600 g)
Outer Roller distance
38mm (c:c)
Max Linear Speed
2000 m/min (standard)
3500 m/min (optional), specify suffix "-k"