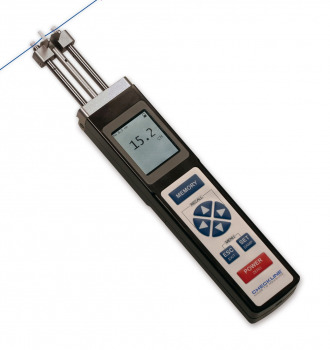 Click on an image for a larger image
ETPB-ETPX Limited Access Digital Tension Meter

Electronic tension meter for hard to reach and limited access space applications with ceramic pins up to max. 6000 m/min
2 Models
ETPB (Basic unit) & ETPX (with memory and outputs)
3 Ranges
0.5 - 100, 2 - 200, 2 - 500 (g or cN)
Three long, closely-spaced slender shafts with precision guide rollers or pins at their ends combine with the latest in microprocessor technology to make this instrument top choice for all limited-access, tension measuring applications.
Tension meter with measuring head as small as possible for textil application only
Reversible display for right or left-hand operation

Special features for the ETPX models:
Memory of max. 4000 displayed tension values splited up to 255 series of measurements and statistics (Last, AVG, MIN and MAX of displayed values, MIN-PEAK and MAX-PEAK are values measured within a measuring frequency of 1 kHz)
USB interface for connection to a PC (With the programm SW-TI3 »Tension Inspect 3« readings can be
displayed, statistically analyzed and saved.)
4 different memory modes can be selected by the operator:
- Mode S: only statistical values per series are displayed
- Mode L: statistics plus 10 displayed values of each series of measurements
- Mode C: statistics plus 4000 displayed values arbitrary splited up to 255 series
- Mode F: as C plus higher sampling rate of 100 Hz = 100 values/s
User Selectable Units Grams or Centinewtons
New filament guide for easy acquisition of material
Adjustable damping for easier readings when tension fluctuates
Backlit LCD Display
0-2 VDC analog output for connection to a chart recorder or datalogger
USB output for batch download or real-time data transfer to TensionInspect Software
TensionInspect Software plus USB cable provided FREE
Model
Ranges
Resolution
Rollers or Pins
ETB-100 / ETX-100
0.5-100.0
0.1
Rollers
ETB-200 / ETX-200
1-200
1
Rollers
ETB-500 / ETX-500
1-500
1
Rollers
ETPB-100 / ETPX-100
0.5-100.0
0.1
Ceramic Pins
ETPB-200 / ETPX-200
1-200
1
Ceramic Pins
ETPB-500 / ETPX-500
1-500
1
Ceramic Pins
Selectable Units: Grams or Centinewtons

Outer Roller Spacing 24mm

Standard Calibration Material 0.20 mm Ø Polyamide Monofilament
Accuracy
±1 % full scale ±1 digit or better
(typical ±0.5 % full scale)
Factory Calibration Material
0.20 mm Ø Polyamid Monofilament
Minimum Access Space Required
3/4" x 1" (20 x 26mm)
Guide Roller / Pin Material
Rollers, chrome-plated steel, std : 2000 m/min
Ceramic pins, optional : 6000 m/min
Outputs Signal Analog
ANALOG, 0-2.0 V DC, proportional to tension
Outputs Signal Digital
RS232 (9600, 8,N, 1)
Measuring Principle
Strain-gauge bridge
Maximum Sensing-Roller Displacement
0.5mm
Scanning Frequency
100 / sec., except 40/sec. in PEAK mode
Display Update
0.5 sec. (2 times per second)
Thermal Drift
0.25% full scale per degree C
Over Range
10% FS, without accuracy guarantee
Temperature Limits
40-115° F (5-45° C)
Automatic Zero
± 20% of range
Battery/Life
9 volt, long-life lithium (included), non-rechargeable / Approx. 80 hrs. (Note: A standard 9V alkaline battery can be used as a backup, but with greatly reduced life.)
Low Battery Voltage Indicator
LO BAT, or equivalent display
Dimensions
13" x 1-3/4" x 1" (330 x 45 x 25mm)
Complete Kit
Tension Meter, one long-life 9V lithium battery and instructions, all supplied in a foam-fitted carrying case.
Memory
Last, average, MAX, MIN, MAX-PEAK, MIN-PEAK