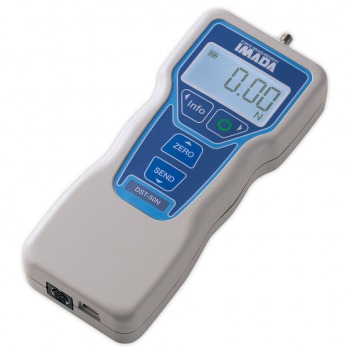 Click on an image for a larger image
DST Digital Force Gauge with 30,000 / sec sampling rate
The Digital DST force gauges are easy-to-use base units for compressive force and traction measurements with user-friendly menu navigation. The DST also comes with the possibility to lock the measurement units mode as well as the measurement selection mode to prevent accidental changes.

The large backlit LCD display can be configured in basic format to display the measured value, measuring unit and measuring mode, or in multi-line format to simultaneously display peak and real-time values. The DST Digital DST force gauge also includes additional features such as a rotating display and maximum and minimum settings with an "OK" on the display for Go / No Go tests.
The DST force gauges have an ultra-fast sampling rate of 30,000 / sec. Data is collected via USB or RS-232 data output using Force Logger or SW1X software (both optional).
DST force gauges are powered by a rechargeable Ni-MH battery or AC adapter.
Ergonomic, durable, heavy-duty metal construction
30,000/sec sampling rate
Backlit LCD display with user-friendly menus
Overload capacity 200% F.S.; display flashes at overload limit
Push-button tare function
Setting security lock prevents accidental changes
Selectable real time or peak mode operation
Programmable High/Low setpoints with OK indicator
USB and RS-232C output
The DST kit includes set of six attachments, AC charger/adapter, calibration cert traceable to NIST and carrying case
Ni-MH batteries (user replaceable) or AC adapter; charge with USB port or portable charger
Model
Ranges
Resolution
DST-0.4
7.00 oz
200 g
2.000 N
0.01 oz
0.1 g
0.001 N
DST-1
18.00 oz
500 g
5.000 N
0.01 oz
0.1 g
0.001 N
DST-4
4.400 lb
2.000 KG
20.00 N
0.001 lb
0.001 Kg
0.01 N
DST-11
11.00 lb
5.000 Kg
50.00 N
0.01 lb
0.001 kg
0.01 N
DST-44
44.00 lb
20.00 Kg
200.0 N
0.01 lb
0.01 kg
0.1 N
DST-110
110.0 lb
50.00 Kg
500.0 N
0.1 lb
0.01 kg
0.1 N
DST-220
220.0 lb
100.0 Kg
1000 N
220.0 lb
100.0 Kg
1000 N
The DST force gauge is delivered as a complete kit including:
Gauge
Six Standard Attachments
Calibration Certificate Traceable to NIST
Hard Plastic Carrying Case
User Manual & AC Adapter / Charger
Measuring Principle:
Bidirectional force sensor with strain gauge
Accuracy:
± 0.2% F.S., ± 1 LSD
Update Rate:
30,000 Hz
A/D Converter
16 bit
Set point:
Programmable maximum / minimum setpoint with 'OK' display
Display
4 Digit LCD Display
Display update rate:
8 times / sec
Selectable Measuring Units:
lbf(ozf), kgf(gf) or Newtons
Battery Life:
Approx. 30 hours without backlight
Approx. 14 hours with backlight
Full charge requires 4.5 hours
Battery Indicator:
Battery icon indcates 3 levels of charge
Overload protection:
200% of full scale
alarm signal beeps at 90%
alarm signal sounds are triggered and display flashes at 110%
Data Output:
USB, RS-232C
Battery life:
Approx. 30 hours without backlight
Approx. 14 hours with backlight
Full charge requires 4.5 hours
Power supply:
Rechargeable NiMH batteries. Charging via AC adapter or via
USB cable via a computer or power bank.
Housing:
Die-cast aluminium
Mounting holes:
4 x M4, depth 8 mm
Thread gauge:
M6 exterior
Operating temperature:
0° - 40°C
Dimension:
181 x 72 x 32 mm (LxWxH)
Air humidity:
20 - 80% RH
Weight net (gross):
approx. 460g (1300g)
Guarantee:
2 years
All mentioned prices are excluding VAT & excluding shipment costs.
Availability: Available , preorder 1-2 weeks , special order, request