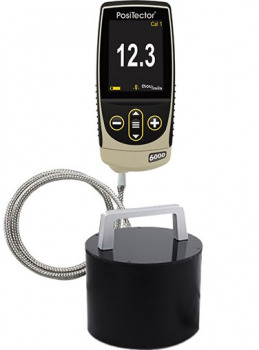 Click on an image for a larger image
PosiTector 6000GS Coating Thickness Gauge

The coating thickness gauge PosiTector 6000GS is a hand-held, electronic precise, rugged tester designed for non-destructive measurement of very thick coatings on ALL metals accurately and quickly using magnetic and eddy current principles.
Ideal for measuring ship hull coatings and thick intumescent paints.
Range: 0 - 63,5 mm
Accuracy:+/- (0.2 mm + 3%)
Minimum Surface Area: 254 x 254 mm
Minimum Substrate Thickness: 5 mmSubstrates:= Coatings on Ferrous metals (Steel & Cast Iron)
N= Coatings on Non-Ferrous metals (Aluminium, Copper, etc)
FN= Combination: Coatings on All Metals
The 6000GS is available in Standard (1) or Advanced (3) configuration.
The Standard(1) model has a monochrome display, 250 reading memory and USB data output.
The Advanced(3) model adds a high contrast color LCD display, Scan Mode, Real-Time Graphing Bluetooth output and more.
Feature Comparison Chart
Standard
(1)
Advanced
(3)
Hi Contrast LCD Display

Color

Color
General Features
Standard
(1)
Advanced
(3)
FAST mode - faster measurement speed for quick inspection
SCAN Mode - take continuous readings without lifting the probe
-

Hi-Lo limits audibly and visibly alerts when measurements exceed your specified limits

Instantly calculate average, standard deviation, min/max thickness and number of readings while measuring

Onscreen help, real time graphing, picture prompting and batch notes
-
Memory Features & Capacity
Standard
(1)
Advanced
(3)
Reading Storage Capacity
250 in one group
10,000 in up to 1000 groups
Create meaningful batch names and enter notes directly on the instrument using a familiar on-screen QWERTY keyboard.
-
SSPC PA2 feature set determines if film thickness over a large area conforms to user-specified min/max levels
-
PSPC 90/10 feature determines if a coating system complies with an IMO performance standard for protective coatings
-
Multiple stored calibration adjustments for measuring on a variety of substrate conditions
-
Connection Options
Standard
(1)
Advanced
(3)
USB port for fast, simple connection to a PC and to supply continuous power. USB cable included
WiFi technology wirelessly synchronizes with PosiSoft.net, downloads software updates, and connects to mobile devices for expanded functionality
-
Bluetooth Wireless Technology for data transfer to a PC or optional portable printer
-
PosiSoft Solutions
Standard
(1)
Advanced
(3)
PosiSoft Desktop Software Desktop software for PC or Mac computer
PosiSoft USB Drive Access your PosiTector as a flash drive. View and print readings and graphs using universal PC/Mac web browsers or file explorers
PosiSoft.net (formerly PosiTector.net) Cloud-based application offering centralized management of PosiTector readings
PosiSoft Mobile Gage-based software application featured in all PosiTector Advanced instruments
-
Range:
0 - 63,5 mm
0 - 63500 µm

Accuracy:

+ (0.2 mm + 3%)
Minimum Surface Area:
254 x 254 mm
Minimum Substrate Thickness:
5 mm
*Accuracies are stated as a fixed value plus a percentage of the gage's actual reading.
Measuring principle
Magnetic induction principle (Ferrous)
Eddy-current principle (Non-Ferrous)
Display
Backlit & Reversible LCD
Data Output
USB - "1" & "3" Models
Bluetooth - "3" Models
Power
3 AAA batteries, Included
Dimensions body
146 x 64 x 31 mm
Weight body
140 g without batteries
Dimensions probe
Ø 127 mm x 140 mm
Weight probe
800 g
Range
0 - 63,5 mm
Accuracy:
+ (0.2 mm + 3%)
Minimum Surface Area:
254 x 254 mm
Minimum Substrate Thickness:
5 mm
Warranty
2 Years
Calibration Certificate
Certificate of Calibration showing traceability to NIST included
Display languages
English, French, German, Spanish, Chinese, Japanese, Portuguese, Italian, Norwegian, Russian, Czech, Polish and Korean
Comes complete with:
gauge body
FNGS probe
Certified Polystyrene Blocks (P8)
protective rubber holster with belt clip
wrist strap
3 AAA alkaline batteries
instructions
nylon carrying case with shoulder strap
protective lens shield
Long Form Certificate of Calibration traceable to NIST
USB cable
two (2) year warranty.
All mentioned prices are excluding VAT & excluding shipment costs.
Availability: Available , preorder 1-2 weeks , special order, request
PosiSoft Desktop Software for PosiTector with Serial Numbers: 600.000 - 699.00 & 700.000 and greater