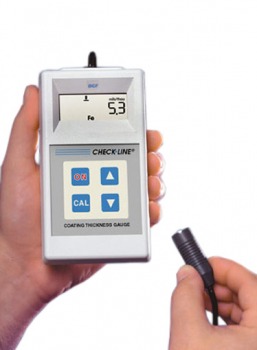 Click on an image for a larger image
DCF-900 Low Cost Coating Thickness Gauge - Measures Coatings On Steel
Measuring Range 0.1-40.0 mils (1-999 µm)

DCF-900 measures the thickness of plating,paint, coatings and galvanizing on iron or steel...more accurately, dependably and economically!


Measures to 0.01 mil (0.1 µm), automatically rounding off to the nearest 0.1 mil (1 µm).
Dependable accuracy over the entire range of the gauge, not just at "calibration check" points.
Calibration to NIST standards is available upon request.
Continuous reading update detects soft coatings as probe tip "sinks" into them.
Keypad-selectable English or metric units.
The DCF-900 and include the gauge and probe, a bare test plate, two precision calibrations shims & instructions, all in a foam-fitted carrying case.
Remote probe permits easy access for difficult, hard-to-reach places.
Longer lasting, driftless calibration Set it and forget it for long periods of time and from job to job
Very reliable operation Consistent, repeatable measurements
Range:
0.1-40.0 mils (0-999 µm)
Resolution:
0.1 mil (1 µm)
Accuracy:
0-10 mils: ±0.1 mil
10-40 mils: ±1% of reading
Probe:
Monopolar, magnetic induction, 0.4" (10 mm) dia., spring-loaded, with V-notched shell and 28" (70 cm) cable
Battery/Life:
9 V alkaline/approx. 6 months normal use, with auto shutoff after 90 seconds of non-use
Dimensions:
5.7" x 3.1" x 1.5"
(145 x 79 x 38 mm)
Weight:
9 oz. (250 g)
Temperature Limits:
Material: 15 to 140° F (-10 to 60° C)
Ambient: 32 to 125° F (0 to 50° C)
Warranty:
One (1) year
Minimum Radius for Convex Surfaces
0.375" (9.5 mm)
Minimum Radius for Concave Surfaces
2.5" (63.5 mm)
Minimum Headroom
2.5" (63.5mm)
Minimum Sample Diameter
0.5" (13 mm)
Minimum Substrate Thickness - F
0.020"
Minimum Substrate Thickness - NFe
NA
The DCF-900 is supplied as a complete kit including gauge, ferrous zero plate, 2 plastic test shims and instruction manual in a foam fitted, hard plastic carrying case.

Cic-Coating Calibration Coating Thickness Gauge
Easy planning of calibration
Short turnaround
Possibility to adjust and repair
In accordance with DIN EN ISO 2178, 2360, 2808 and meets or exceeds the indicated accuracy.
More details