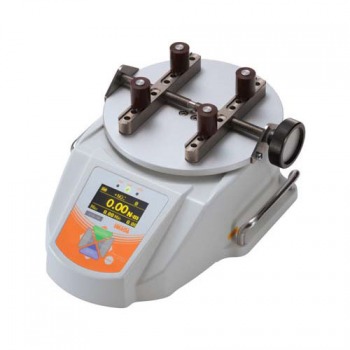 Click on an image for a larger image
CAP-DTX Digital Cap Torque Tester
The CAP-DTX models are available in 2 versions:
CAP-DTXS (standard)
CAP-DTXA (advanced)
The CAP-DTX digital cap torque tester has an EL (electro luminescent) display which can be clearly read under any lighting circumstances.
This cap torque tester can capture up to 2000 reading per second and has an extreme overload capacity of 200%. Together with the heavy duty steal housing this is one of the most rugged cap torque testers available today.

Cap testers include AC adapter/charger and built-in NiCad rechargeable batteries, 2,5 cm high standard pegs (optional long pegs available).
Available outputs: RS-232, Digimatic and Analog
Overload capacity 200% of F.S.
Measure torque of opening and closing PET bottles an bins
Selectable units: N-m, N-cm, kgf-m, kgf-cm, Lb- in, ozf-in
Grip clamps diameters from 20-160mm
Optional small tables clamp diameters from 7mm-50mm available
High repeatability by high speed sampling rate
Includes NIST traceable calibration certificate
Display of opening or close torque
ISO/IEC 17025 Long-form Certificate & Test Data is optionally available
1,000 data memory
Programmable high/low setpoints with color-coded LED indicators and output signal
Electroluminescent display (ELD)
Functions
CAP-DTXS
CAP-DTXA
Peak hold (Clockwise and Counterclockwise)
Comparator (OK/NG judgment )
Reversible display
Sign inversion
Time display
Internal memory
1000 data
1000 data
Dumping
Zero clear timer
+NG alarm
Auto shut off
1st/2nd peak
-
Angle detection at torque peak value
-
Angle zero reset at selected torque
-
Output
CAP-DTXS
CAP-DTXA
Serial (RS232C)
Mitutoyo digimatic
2 VDC analog output (D/A)
USB
Comparator 3 steps (-NG/OK/+NG)
Overload warning
Sub comparator 2 steps (output of large or small judgment)
-
Memory in USB flash drive
[USB flash drive is not included]
-
Angle displacement
-
| | | | | |
| --- | --- | --- | --- | --- |
| Model | lbf/in | Kgf-cm | N-cm | |
| CAP-DTX-15 | 15.00 (0.01) | 20.00 (0.01) | 200.0 (0.1) | |
| CAP-DTX-40 | 40.00 ( 0.01) | 50.00 (0.01) | 500.0 (0.1) | |
| CAP-DTX-85 | 85.0 ( 0.1) | 100.0 ( 0.1) | 1000 (1) | |
| | |
| --- | --- |
| Accuracy: | ± 0.5% Full scale ± 1 digit |
| Display : | 4-digits |
| Display update: | 10 times /sec |
| Sampling rate: | Maximum 2000 data/ sec |
| Selectable units: | N-m, N-cm, kgf-m, kgf-cm, Lb- in, ozf-in |
| Safe overload rating: | 200% Full scale |
| Overload warning: | Approx.110%F.S. (Warning message and alarm ) |
| Battery: | 8 hours (8 hours full charge) |
| Battery Indicator: | Indicates three charge states, high, medium,and low |
| Auto Zer Reset: | 1,0 to 60 seconds (selectable) |
| Warranty: | 2 years |
| Output signal: | RS232C (8,1,N,19200), analog ± 2V DC, Open collector 4x (+NG, Ok, -NG, OVL), max. 30V DC, 10mA, Mitutoyo Digimatic |
| Temperature range: | 0 - 40°C |
| Air humidity: | 20 - 80% RH, max. |
| Housing dimensions: (approx.) | 305x233x119 mm (LxWxH) |
| Max sample diameter | 20 - 160mm |
| Memory: | 1000 data points (max) |
| Pegs | 2.5 cm standard, 10 cm optional |
| Gross Weight | Appr. 4,5 kg |
All mentioned prices are excluding VAT & excluding shipment costs.
Availability: Available , preorder 1-2 weeks , special order, request