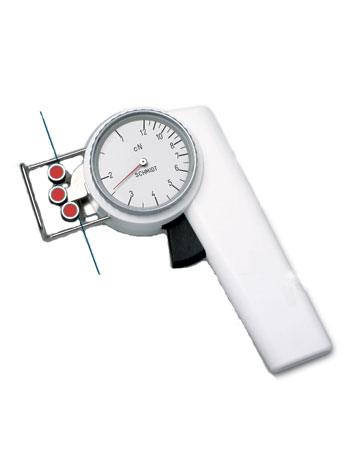 Click on an image for a larger image
ZF2 Economical tension meter for fiber, yarn and wire testing

Precision movement and light-weight, hard plastic housing makes the Type Z Series ideal for accurately checking the operating or static tensions of a wide variety of process material including delicate yarns, fibers, filaments, wires, etc.
Slim filament guide with small guide rollers - ideal for limited access space
Large, easy to read scale (54 mm Ø)
Everything in operator's view:
- the guide rollers
- the measured material
- the readings

Each instrument is individually calibrated for highest accuracy
Inspection Certificate 3.1 according DIN EN 10204 with calibration report optionally available
Light weight
Filament guide and roller shifting mechanism ensure easy acquisition of the running material
Ball-bearing mounted, V-grooved guide rollers
Housing made of high-strength plastic
Certificate of Compliance with the order 2.1 according DIN EN 10204 is included
Model
Ranges
Measuring Head Width* mm
SCHMIDT Calibration Material**
ZF2-5
1-5
43
Filament: 25 tex
ZF2-10
1-10
43
Filament: 25 tex
ZF2-12
1-12
43
Filament: 25 tex
ZF2-20
2-20
43
Filament: 25 tex
ZF2-30
3-30
43
PA: 0.12 mm Ø
ZF2-50
5-50
43
PA: 0.12 mm Ø
ZF2-100
10-100
43
PA: 0.12 mm Ø
Other tension ranges available on request. Other units of measure available, such as g.
* Width of filament guide
** Suitable for 95% of applications - PA = Polyamide Monofilament

Special calibration using customer supplied samples is recommended, if process material differs significantly from the SCHMIDT calibration material in diameter, rigidity or shape. For this purpose a material sample of about 5 m should be supplied.

ZF2 Models

Miniaturized rollers make these models ideal for delicate fibers, low tension or when access space is limited.


ZD2 Models


Recommended for all other applications where miniaturized rollers are not needed.

| | |
| --- | --- |
| Calibration: | According to SCHMIDT factory procedure |
| Accuracy: | ±1% full scale or ±1 graduation on scale |
| Scale diameter: | 54 mm |
| Temperature range: | 10-45ºC |
| Air humidity: | 85% RH, max. |
| Housing material: | Plastic (POM) |
| Housing dimensions: | 157 x 85 x 32 mm (LxWxH) |
| Weight, net (gross): | approx. 200 g (600 g) |