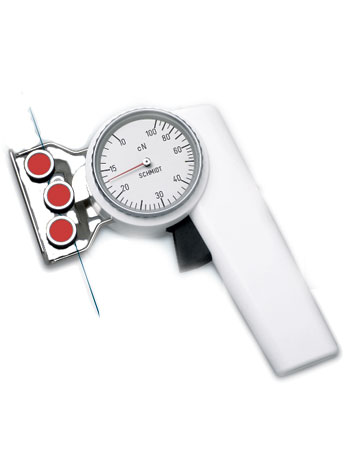 Click on an image for a larger image
ZD2 Universal tension meter for checking fibers, yarns and fine wires

Precision movement and light-weight, hard plastic housing makes the Type Z Series ideal for accurately checking the operating or static tensions of a wide variety of process material including delicate yarns, fibers, filaments, etc.
Large, easy to read scale (54 mm Ø)
A trigger-operated, roller-shifting mechanism and exclusive snare-guide automatically guide the moving filament into the roller V-grooves eliminating breaks and snags
Certificate of Compliance with the order 2.1 according EN 10204 is included
Front filament loading permits the operator to observe the filament, rollers and dial at all times
Each instrument is individually calibrated with each scale hand marked to provide the highest reading accuracy
Roller guides are rated for speeds up to 2000 m/min or, optionally, 5000 m/min
Inspection Certificate 3.1 according EN 10204 with calibration report is optionally available
ZF2 Models

Miniaturized rollers make these models ideal for delicate fibers, low tension or when access space is limited.
ZD2 Models

Recommended for all other applications where miniaturized rollers are not needed.

| | | | | | |
| --- | --- | --- | --- | --- | --- |
| Model | Ranges | | | | |
| ZD2-30 | 3-30 cN | | | | |
| ZD2-50 | 5-50 cN | | | | |
| ZD2-100 | 10-100 cN | | | | |
| ZD2-150 | 20-150 cN | | | | |
| ZD2-200 | 20-200 cN | | | | |
| ZD2-300 | 20-300 cN | | | | |
Calibration:
According to SCHMIDT factory procedure
Accuracy:
±1% full scale or ±1 graduation on scale
Scale diameter:
54 mm
Dimensions:
150 x 120 x 30 mm
Weight, net (gross):
approx. 230 g
Roller material:
Standard - Hard coated aluminium
Maximum Linear Speed:
Standard - 2000 meters/min
Optional - 3500 meters/min (K)
Optional - 5000 meters/min (HS)
Other Options:
Calibration for horizontal material path (rollers pointing down) (D)
Memory pointer