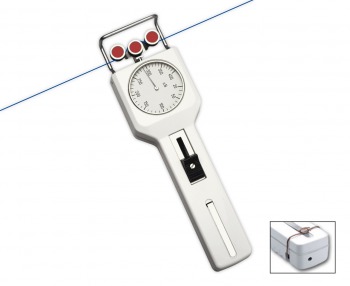 Click on an image for a larger image
DN1 Durable tension meter for high tensions

Durable tension meters for a wide range of applica-tions in the textile, fiber and wire industries.
The DN1 analog tension meter shows changing and fluctuating tensions fast, itenables an optimal process adjustment .The built-in material thickness compensator compensates different material diameters for a particular range (only DN1-1000 and higher ranges). The scale (54 mm Ø) is easy to read, the linearized scale provides a clear reading. The filament guide and roller shifting mechanism ensure easy acquisition of the running material.
Large, easy to read scale (54 mm Ø)
Shock-resistant movement
Filament guide and roller shifting mechanism ensure easy acquisition of the running material
Ball-bearing mounted, V-grooved guide rollers
Special calibration is available
Specific Test Report with calibration test report optionally available
Linearized scale provides a better reading
Built-in material thickness compensator improves accuracy for changing diameters on DN1-1000 and higher ranges
Everything in operator's view:
- the guide rollers
- the measured material
- the readings
Each instrument is individually calibrated for highest accuracy
Rugged aluminium housing
Model
Ranges
Measuring Head Width* mm
SCHMIDT Calibration Material**
MTC**
DN1-120
20-120
65
PA: 0.12 mm Ø
DN1-200
20-200
65
PA: 0.12 mm Ø
DN1-400
20-400
65
PA: 0.20 mm Ø
DN1-1000
50-1000
65
PA: 0.30 mm Ø
DN1-2000
200-2000
116
PA: 0.50 mm Ø
DN1-3500
400-3500
116
PA: 0.80 mm Ø
DN1-5000
400-5000
116
PA: 0.80 mm Ø
DN1-8000
500-8000
116
PA: 1.00 mm Ø
DN1-10K
2-10 daN
116
PA: 1.00 mm Ø
DN1-20K-L
5-20 daN
216
PA: 1.50 mm Ø
DN1-30K-L
5-30 daN
265
PA: 1.50 mm Ø
DN1-50K-L
5-50 daN
265
Steel rope:
1.50 mm Ø (7x7x0.20)
Other tension ranges and measuring head widths available on request.
Other units of measure available - g or kg.
* Depending on model, either width of filament guide or outer distance between outside guide rollers
** Suitable for 95% of applications - PA = Polyamide Monofilament
***MTC = Material Thickness Compensator

Special calibration using customer supplied samples is recommended, if process material differs significantly from the SCHMIDT calibration material in diameter, rigidity or shape. For this purpose a material sample of about 5 m should be supplied.
Code: Standard

Roller material
Hardcoated aluminium
Line Speed
2000

Code A: Air Damping
Code L: Special Lever

This adjustable mechanical air dashpot is recommended for applications in which great fluctuations of the measured tension occur, as in spooling and winding machines.
This assures steady tension readings on the scale.


Facilitates acquisition of the running material when measuring high tensions.
Reduces force necessary to extend outer rollers: Recommended for tension ranges of 10 daN and higher.

Delivery includes:
Tension meter with carrying case, operating instructions in English or German as requested

Note: Models DN1-30K and DN1-50K are delivered with roller R12013 as default

Calibration:
According to SCHMIDT factory procedure
Accuracy:
±1% full scale (FS) or ±1 graduation on scale
Temperature range:
10-45ºC
Air humidity:
85% RH, max.
Housing material:
Die-cast aluminium
Housing dimensions:
220 x 74 x 42 mm (L x W x H)
Weight, net (gross):
up to DN1-10K approx. 700 g (1200 g)
DN1-20K-L and higher ranges (approx.) 900 g (2200 g)