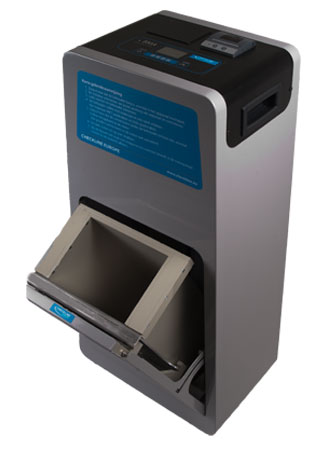 Click on an image for a larger image
BMA Moisture meter for determining the water content of biomass
Professional moisture meter for determining the water content of biomass with optional display of bulk density and bone dry weight (tons/m³). For measuring wood chips, barks, wooden pellets, elephant grass, wood shavings, sawdust and corn cobs.

The BMA for measurements within seconds without prior treatment of samples, with manual saving of results, datalog for 10,000 logs with measuring point report.
Also available with the option: BMA-ATRO - Display of bulk density and bone dry weight (tons/m³)

Only the exact determination of water content of biomass allows fair payment for producers, suppliers and end customers. The water content determines the fuel value of biomass. This makes quality control in the manufacturing and supplying of biomass increasingly important. Using a high quality biomass moisture meter you can prevent machine problems and avoid paying the high product price only for water.


High measuring range up to 70% water content
Available option for displaying of bulk density and ATRO tons/m³
Manual saving of results, datalog for 10.000 logs with measuring point report
Bulk density compensation by integrated scale
Measurement within seconds without prior treatment of samples
Robust housing
Resolution: 0.1% water content
Infrared sample temperature measurement
| | |
| --- | --- |
| Measuring range | 5% to 70% water content, depending on the material |
| Resolution | 0.1% water content |
| Calibration Accuracy | +/- 1.0% |
| Measurement Technique | Capacitance, Click for more info |
| Sample volume | 12 liter |
| Menu languages | English, German, French, Italian, Spanish and Russian |
| Housing | Robust housing |
| Data logger | 10,000 moisture measurements plus date, batch & temperature |
| Display | 128x64 matrix display lighted |
| Bulk Density Compensation | By integrated scale |
| Temperature Compensation | Automatic in °C or °F |
| Temperature sensor | Infrared (non-contact) |
| Data Interface | Optional: USB (supplied with data transfer cable & software) |
| Operating Temp | 0°C to 50 °C |
| Power | 100-240 VAC, 1 A, 50-60 Hz |
| Plug | Schuko plug as per CEE 7/7 |
| Dimensions | 432 x 282 x 862 mm |
| Weight | approx. 26 kg |
| Degree of protection | IP 40 |
| Warranty | 2 years |
The BMA is delivered as a complete kit including:
- BMA gauge,
- BMA measuring box (12 litre),
- Power supply unit 12 VDC, 4 A,

The BMA - USB is delivered as a complete kit including:
- BMA gauge,
- BMA measuring box (12 litre),
- Power supply unit 12 VDC, 4 A,
- USB data output connection,
- Software & USB cable.

*Both versions are available with BMA-ATRO: display of bulk density and bone dry weight (tons/m³) The data printer is only available for the BMA-USB.
(these options are only available for delivery ex factory)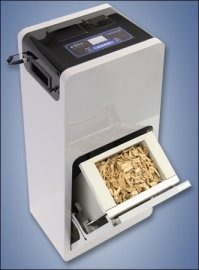 All mentioned prices are excluding VAT & excluding shipment costs.
Availability: Available , preorder 1-2 weeks , special order, request