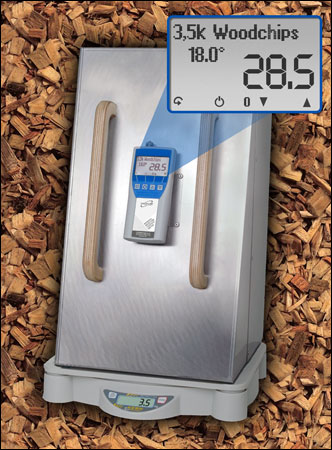 Click on an image for a larger image
BM2 Biomass Moisture Meter with USB Output & Software
The BM2 biomass moisture meter has been discontinued and replaced by the new model HGF. Please click here to view the new model.
2 Models Available:
- BM2 - with USB Data Output
- BM2-KIT - BM2 bundled with digital scale

BM2 is equipped with USB data output and calibration function for self-calibration on non-standard material.
Model BM2 for testing the moisture content of most types of biomass materials.
Highly accurate moisture meter with automatic bulk density compensation for quick determination of water content of wood chips, barks, wooden pellets, elephant grass, wood shavings and sawdust.
The entire measurement procedure is extremely easy & only takes seconds. Simply turn on the gauge, collect the desired Biomass test sample and pour into storage bin and view the water content (%-moisture) on the large backlit LCD display.
The BM2 includes built-in memory for 10,000 values with serial output downloading data to external printer, PC-Software or 3rd-Party accounting programs for automatic calculation of price or payment. Additionally, the BM2 is supplied with PC Software and USB Data Transfer Cable.
Rugged stainless steel Storage Bin is integrated with gauge providing an all-in-one measuring system
Gauge menus in English, German, French, Italian, Spanish and Russian
BM2 includes datalogger for data transfer to PC or Printer documenting moisture measurements, date, batch & temperature
Automatic self-calibration and built-in temperature compensation assures highest possible accuracy
2 Year Warranty
Take measurement in seconds without prior treatment of samples
Bulk density compensation by using a precision electronic balance (scale)
Large Backlit LCD Display with over-sized numbers makes for easy viewing
Supplied with 13 liter plastic bucket for collection of testing sample

The BM2 biomass moisture meter is delivered as a complete kit including:
- BM2 biomass moisture meter
- plastic bucket
- batteries
- user manual
- data transfer cable
- USB converter
- software
- manufacturer certificate

Delivery of the digital scale (supplied in BM2-KIT) includes the following:
- digital scale; 10,000 gram
- 230 VAC power supply unit
- manufacturer certificate


Measuring range
5 to 60% water content depending on material
Resolution
0.5% water content (0.5 °C or °F)
Calibration accuracy
+/- 1.5%
Menu languages
English, German, French, Italian, Spanish and Russian
Housing
Gauge: Plastic with IP40 rating
Storage Bin: Stainless Steel
Data logger
10.000 logs with measuring point report
Display
Graphic LCD display with backlight (128 x 64 pixel)
Bulk Density Compensation
With Digital Precision Scale
Temperature Compensation
Automatic in °C or °F
Data Interface
USB (supplied with data transfer cable & software)
Custom Material Calibration
yes, can be calibrated by user
Operating Temp
–20 °C to 60 °C (–4 °F to 140 °F)
Storage Temp
–20 °C to 60 °C (–4 °F to 140 °F)
Power
4 x 1.5 Volt AA Alkaline batteries
Battery Life
900 measurements, with auto-off after 6 minutes of non-use
Dimensions
490 x 290 x 300 mm (19.3" x 11.4 x 11.8)
Weight
5.3 kg (11.60 lbs) including batteries