CF-AN Coupling Fluid
CF-AN is a corrosion-preventing couplant for non-destructive testing and thickness measurement with ultrasonic waves.
CF-AN Coupling Fluid is necessary because sound energy at the ultrasonic frequencies typically used for ultrasonic testing is not effectively transmitted through air. Aside from damping effects, the air is a serious acoustic impedance mismatch with regard to both transducers/probes and test materials. Even an extremely thin air gap between the transducer/probe and the test material will prevent efficient sound energy transmission and make conventional testing impossible.
Optimal transmission requires an ultrasonic couplant without air bubbles that can reflect, scatter, and attenuate sound waves.
Temperature Range: -5 to 97 ºC
Used to create an ultrasonic coupling between the probe and material to be measured
Available in different volumes - 125ml / 250ml / 500ml / 1ltr / 5ltr / 25ltr
Temperature Range: -5 to 97 ºC
| | |
| --- | --- |
| Application: | Technical couplant for ultrasonic testing |
| Form: | Fluid, high-viscosity |
| Color: | Green, clear |
| pH-value at 20°C: | 8-9 |
| Melting-point: | -5° C |
| Boiling point: | > 97° C |
| Density at 20°C | 1,022 kg/l ±5% |
| Viscosity at 20° C | 30000 mPas ±5% |
| Chlorid & Fluorid | < 0.0250 % |
| Sulfur | < 0.0250 % |
CF-4H High Temperature Coupling Fluid
Temperature Range:
0° to 600° F
-18° to 315° C
More details
CF-4H-950F High Temperature Coupling Fluid
Temperature range from 316ºC to 404 ºC
Very slow drying; allows for long-term coupling without reapplication
More details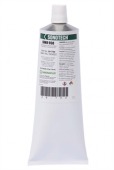 All mentioned prices are excluding VAT & excluding shipment costs.
Availability: Available , preorder 1-2 weeks , special order, request