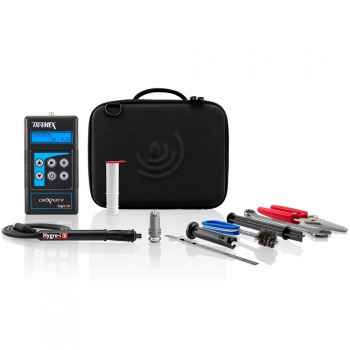 Click on an image for a larger image
Tramex Concrete Hygro-I Inspection Kit Tramex Concrete Hygro-I Moisture Inspection Kit
The complete moisture & humidity testing kit for concrete, incorporating the Tramex instant moisture test and the new Hygro-i in-situ probe working together to provide a new standard in speed & accuracy which can be used again & again.

The Tramex Concrete Hygro-I Inspection Kit provides you with a reliable, sustainable method for the measurement of moisture in concrete. Additionaly, it can be used for comparative readings on stone, lightweight concrete, gypsum floor screeds, ceramic tiles and other masonry type materials.


CMEXpertII gives instant non-destructive readings in concrete up to 6.9% moisture content.
Backlit display for easy viewing in low light conditions.
Use per ASTM 2659.
Hygro-i NEW reusable NIST traceable relative humidity probe
The Hygro-i sensor is fast, accurate, reusable and economical.
The Tramex Concrete Hygro-I Inspection Kit is a complete kit including:
-CMEXpertII Digital, Hand-Held, Non-Destructive Concrete Moisture Meter
- Hole liners and caps (12)
- Brush
- Insertion & extraction tools
- Hygro-I Probes (3)
- Hygro-I Electronic Interface
- 75 % RH Calibration Salt Check (3)
- Infrared surface thermometer



Case measurements
41 x 35 x 12 cm
Measure principle CMEXpert II
Non-destructive, impedance measurement
Standard CMEXpert II
Complies with BS Standard BS 5325 and BS 8203 for above surface readings of RH, temperatue & dew-point readings. Complies with ASTM F 2659.
Languages CMEXpert II
English, Spanish, French, German, Polish, Norwegian, Italian, Swedish, Dutch & Portuguese
Power Supply CMEXpert II
Battery operated (included)
Tramex CMEXpert II CMEXPert II Digital Concrete Moisture Meter
Measures up to 6.9% moisture content in concrete
Measures from 7% to 40% moisture content in wood
"Hold" function enables user to "freeze" the reading. Useful for taking readings when the meter face is not visible
More details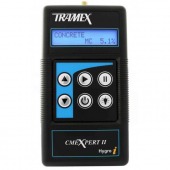 Product name
Price
Quantity
Product name
Price
Quantity
All mentioned prices are excluding VAT & excluding shipment costs.
Availability: Available , preorder 1-2 weeks , special order, request