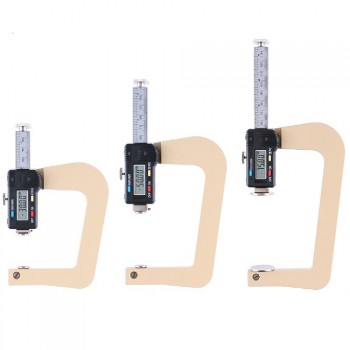 Click on an image for a larger image
RMU Digital Thickness Gauge

Ranges Available:
30, 50 or 75 mm
Resolution:
0.01 mm / 0.001 inch
Thickness gauge to determine the thickness of leather, textiles, cardboard, felt, rubber, wood, sheet metal, foil, plywood, plastic, etc.
The large high-contrast display providing easy, correct reading of the values measured is a real benefit for user. The fuction Keys have been installed on the upper side, thus inadvertent operating during the measurement is possible. The user can select either to display thickness in mm or in inches.
The RMU models are available with 10 different feelers, which can be found below.
User selectable measuring units, inches or millimeters
RS232C Data ouput
Large, high-contrast LCD Display
Calipering speed 1.5 m/s
Resolution:
RMU-30: 0.01 mm
RMU-50: 0.01 mm
RMU-75: 0.01 mm
Measuring Range:
RMU-30: 30 mm
RMU-50: 50 mm
RMU-70: 75 mm
Depth of jaw:
50 mm (all models)
Display:
LCD, 7 mm high (all models)
Feeler Shape:
A,B,C,D,E,F,G,H,I, or M
Measuring System:
Capacitive (all models)
Power supply:
Battery, 1.55 V SR 44 (all models)
Temperature range:
10-45°C
Weight, net:
RMU-30: 200 g
RMU-50: 220 g
RMU-75: 250 g
To order, please indicate the desired feeler, e.g. RMU-50-B for gauge with feeler >B<. This means that NOT all feelers are included in the package!




Feeler: A
rigid leather, glass, sheet metal.

Feeler: B
For wood, rubber, soft leather, foil, etc.

Feeler: C
For soft rubber, felt, fleece.

Feeler: D
For rubber rings, round material.

Feeler: E
For paper, cardboard, chipboard and fibreboard, plywood.

Feeler: F
For sheet metal, glass, round material.

Feeler: G
For very rigid material.

Feeler: H
For foams and insulating materials.

Feeler: I
For very soft foams and insulating materials.

Feeler: M
For rubber sheets, felt, soft materials.