The DHT-2 Textile Moisture Meter instantaneously measures the humidity percentage in fibres, yarns and bales of raw, synthetic or mixed textile material.
17 stored measurement scales for the following materials: wool, rayon, cotton, linen, nylon, acrylic, polyester, 50% wool-50%cotton, 60% cotton-40% PES, 70%pac-30% wool, 67%pac-33% cotton, 70%PES-30% wool, 70%pes-30%rayon, 67% PES-33% cotton, 50% PES-50% cotton, 50%PES- 50% rayon, 50%pes-50%pac
The DHT-2 Moisture Meter is supplied with probe holder, connection cable in carrying case, needle probes 414 & 418 probe.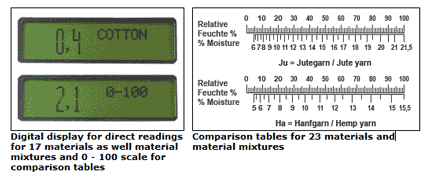 Measuring principle:
The moisture content is determined by measuring the electrical conductivity of the material, which always is proportional to the content of the moisture.
Click Here for Conversion Tables