5 Tension Ranges
0-50 g up to 0-1000 g
TE-xx-22-PL
(with Delrin Plastic Rollers)
TE-xx-22-AL
(with Hardcoated Aluminum Rollers)
Lightweight 32mm diameter rollers minimize the deflection of the material path for fragile filaments or very low tension applications.
A built-in amplifier conditions the strain gauge signal, providing a 0–1 VDC output, minimizing the chance for signal interference.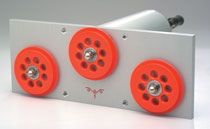 Other important features include user-accessible calibration adjustment pots and gold-plated contacts on the connector.
Plastic Delrin rollers can be supplied instead of the standard Hardcaoted Aluminum rollers when extra low weight is needed or when the material dictates an alternative roller material.