The program can be used for following instruments:
Tension meter series: DT, DTX, ETX, KXE, MST, TS and FS with outputs USB, RS232, RS422 or WI-FI
Display instruments series: SCD-1, SC-PM, SC-PM4, SC-PM4-WL with outputs USB, RS232 or RS422
Tension Inspect is an easy-to use program designed to display, record, graph and print data of a tension meter (online or handheld).
Readings can be viewed in real time. A tension –time graph is being recorded and statistical data are calculated continuously. On request all readings can be stored in a file.
The program is available for single and multi chanel systems (1, 4, 8, 12, 16 or 32 connected tension meters)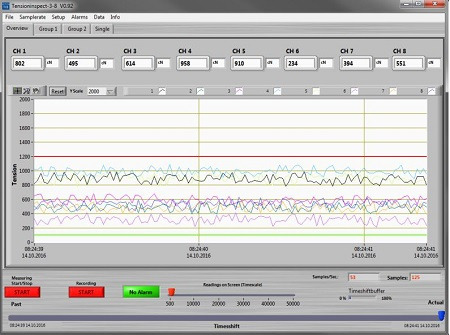 Real time display
Tension-time trend graph; with the time-shift procedure stored readings can be analyzed
Statistical values are automatically calculated and displayed as maximum, minimum, average, number of readings and standard deviation
Readings can be stored automatically as a file in CSV format for record-keeping purpose. These files can be reloaded in Exel spreadsheets. Stored readings of the PC can be reloaded
Set Up Menu to determine settings as instrument, range, units, sampling rate, com port etc.
Adjustable Min. Max Alarms; a alarm protocol can be created
For save and import the readings • A summarized report including the X-Y Chart can be printed in HTML format
The memory of a instrument with memory can be downloaded (model DT, ETX, DTX; MST, KXE and DTX)
General:
Adjustable sampling rate (depending on unit): max. 1000 readings/sec min. 1 readings/sec
Automated detection of the connected unit Model MST can be connected to a PC with the RS-232 cable.
Requirements:
Interface: Depending to the connected unit USB, RS232, RS422 or WLAN
System requirements: WIN XP or higher (32, 64 Bit)
Versions:
SW-TI3 for 1 chanel
SW-TI3-4 for 4 chanel
SW-TI3-8 for 8 chanel
SW-TI3-12 for 12 chanel
SW-TI3-16 for 16 chanel
SW-TI3-20 for 20 chanel
SW-TI3-24 for 24 chanel
SW-TI3-28 for 28 chanel
SW-TI3-32 for 32 chanel