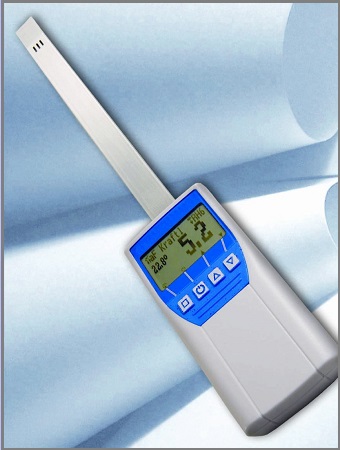 Click on an image for a larger image
RH5 Paper Moisture Meter with Datalogger
The RH5 Paper Moisture Meter is a relative humidity meter with sensor specifically designed for measuring moisture content in paper. One only has to insert the probe in a stack/pile of paper for a short while to retrieve the relative air humidity at a resolution of 0.1 %.
The measured values can be saved manually in the data logger, and can then later be retrieved. Alternatively the auto logger can be used to automatically store the measured values in adjustable time intervals.
To prevent the RH5 and probe from being damaged when used in heave stacks of paper there is an optional protection sleeve available as well as a sleeve removal tool. The sleeve can be inserted into a stack or pile of paper after which the RH5 is attached to it. Measurements can then be taken without measurement outcomes being distorted. After you are finished you can remove the RH5 probe from the stack with a special "probe removal tool".
The temperature is measured as well and included in the hygromeasurement. Temperature range for measurement is -10 to +60 °C and can either be displayed in °C or °F.
The calibrated range of the RH5 hygrometer is 10% to 90% relative humidity, and when the probe is used this is related to the moisture content in the paper stack. Naturally the device can also be used for normal relative air humidity measurements.
Alternatively the actual air humidity or dew point temperature on the probe (sword) tip can be measured.
The model RH5-USB is equipped with a USB interface for data transfer. This model includes software and a data data transfer cable for connection to a PC or printer. A portable thermal printer is available that can be used to print measured values directly from the instrument.


A new and revolutionary powerful portable measuring instrument for measuring with innovative sensor technology
Menu language in English, German, French and Italian
Supplied with wooden case and batteries
2-Year Warranty
Easy data storage at the portable moisture meter. optimal documentation of your quality
Quick - cost saving - automatically documented measurement values
Measurement accuracy of ±1.5% & resolution of 0.1%
The RH5 is delivered as a complete kit including:
RH5 Moisture Meter
Wooden Case
Batteries
User Manual
relative humidity
dew point
Measuring Range
0 to 100%
Resolution
0.1%
Calibration Accuracy
±1.5% (0 to 90%) at 25°C
Temperature Range
-10 to +60°C (14 to 140°F)
Temperature Resolution
0.1°C
Temperature Units
can be set to °C and °F
Temperature Measurement Accuracy
±0.4°C (at 25°C) Pt 1000 DIN B
Dew Point Temperature Range
-55 to 60°C (-67 to 140°F)
Dew Point Temperature Resolution
0.1°C
Temperature compensation
automatic
Date Logger
Automatic data log for 10.000 logs with measuring point report
Data Output (RH5-USB only)
USB interface (supplied with data transfer cable & software)
Power
4x 1.5 Volt AA batteries
Power consumption
55 mA (with display lighting)
Switch-off time
after approx. 4 minutes
Menu languages
German, English, French, Italian, Spanish, Russian
Protection class
IP 40
Dimensions
Housing: 145 x 63 x 24mm
Sensor: 295 x 20 x 4mm
Weight (incl. batt.): 285 gr.
Warranty
2 years
All mentioned prices are excluding VAT & excluding shipment costs.
Availability: Available , preorder 1-2 weeks , special order, request