RH2 Relative Humidity Meter With External Probe
Precision hygrometer with datalogger and external probe with 2 meter connecting cable
Measure climate humidity easily, fast and accurately with the RH2 relative moisture meter, optionally available with a PC-interface, software and printer.

How does it work?
Relative humidity is the amount of water vapor that exists in a gaseous mixture of air and water and is normally expressed as a percentage.

The relative humidity of an air-water vapor mixture can be estimated if both the measurement temperature and the dew point temperature of the mixture are known. This approach to measuring humidity requires an equation expressing the saturation vapor pressure as a function of temperature, the result of this equation is displayed by the RH2 hygrometer automatically as a reliative humidity percentage.

The RH2 hygrometer is the perfect instrument to air humidity control and quality assurance!


Measure relative humidity, absolute humidity, dew point, equilibrium moisture content and AW value
Easy data storage for printing or analysis on PC
Durable humidity- and temperature sensors
Menu language in English, German, French, Italian, Spanish and Russian
Hold function allows saving of results manually
Fast conditioning
Two external sensors are available for the RH2, a plastic external sensor and a metal stabbing probe.
External plastic moisture and temperature sensor for RH2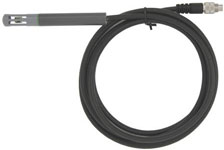 External metal stabbing probe for RH2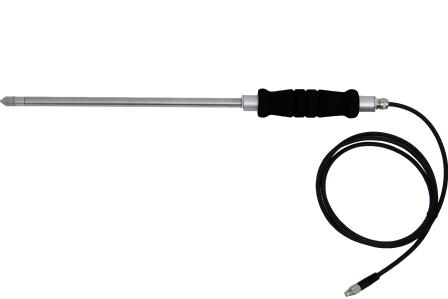 The RH2 is delivered as a complete kit including:
- RH2 Moisture Meter,
- Moisture & Temparature Probe,
- Wooden Case,
- Batteries,
- User Manual
- External sensor or stabbing probe (depending on your selection)


- Relative humidity
- Absolute humidity
- Dew point
- Wood
- POM
Measurnig Range
Relative air humidity 0 to 100%
Relative Humidity Calibration
±2.5% (0 to 90%) at 25°C
Temperature Range
-20 to 85°C
Temperature Resolution
0.1°C
Temperature Measurment Accuracy
±0.5°C (at 25°C) Pt 1000 DIN B
Temperature Units
°C or °F
Dew Point Temperature Range
-55 to 60°C (-67 to 140°F)
Dew Point Temperature Resolution
0.1°C
Absolute Air Humidity Range
0 to 130 g/m³
Absolute Air Humidity Resolution
0.1 g/m³
Equilibrium Moisture Content Range
2 to 30% Ugl
Equilibrium Moisture Content Resolution
0.1%
Equilibrium Moisture Content Calibration
5 to 15%
Equilibrium Moisture Content Accuracy
±0.5% (at 25°C)
Date Logger
Automatic data log for 10.000 logs with measuring point report
Data Output (RH2-USB only)
USB interface (supplied with data transfer cable & software)
Power
4x 1.5 Volt AA batteries
Product name
Price
Quantity
Product name
Price
Quantity
RH-CAL-AMPOULES - Certified calibration ampoules - set of 5.2x35% r.h., 1x50%r.h., 2x80%r.h.
All mentioned prices are excluding VAT & excluding shipment costs.
Availability: Available , preorder 1-2 weeks , special order, request