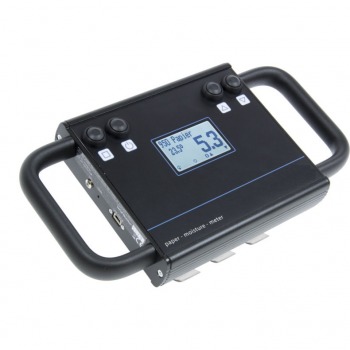 Click on an image for a larger image
PF5 Paper moisture meter for determination of absolute water content
Measuring range: 1% to 25%

Checkline's PF5 Paper moisture meter for determination of absolute water content at the roll for paper manufacturers, paper processors and paper retailers, with infrared temperature measurement for measurements on warm running rolls as well as for receiving inspection on cool rolls.

The Checkline's PF5 is a specially-designed instrument for accurate measurement of moisture content in running paper. The instrument can also be used to measure paper rolls, cardboard and pulp.

The PF5 is equipped with an infrared temperature sensor capable of measuring material temperature up to 125°C. The instrument automatically compensates moisture levels based on material temperature up to 80°C.

The built-in sensor on the rear-side of the gauge provides a measuring range of up to 25% with a measuring resolution of 0.1%.

A datalogger for up to 10,000 readings is provided for recording purposes and the instrument is equipped with a USB output for data transfer.
PF5 provides for Non-destructive measurement through packaging!


The PF5 offers:
- Infrared paper web temperature measurement
- Humimeter USB data interface module with LogMemorizersoftware for PC incl.USB cable
- Rechargeable batteries
- Exact determination of the roll temperature
- Precise measurement values due to temperature compensation based on non-contact temperature measurement
- Easy evaluation of measuring data on PC and printer
- Optimal documentation of your quality
Measuring procedure:
Switch on the PF5, select the right calibration curve (dependent on the paper density) and press the sensor bars of the instrument against the long side of the roll. The illuminated display immediately shows the measuring value. For an average moisture content reading or to identify sections on the roll that are too moist or dry, simply move the device along the entire length of the roll. The PF5 offers a data memory for up to 10,000 measuring values as well as the possibility to enter additional data such as batch number. Via the USB interface, the measurement values can be transferred to a PC and via LogMemorizer® PC software the data can be archived, exported, processed or printed out.
Language support for German, English, French, Italian, Spanish, Portuguese, Czech, Polish, Russian
Measuring range 1% to 25% moisture content with resolution of 0,1%
Automatic temperature compensation for highest accuracy with temperature measurement in ºC or ºF
Supplied with Large, well-lit LCD display with built-in HOLD function
Built-in datalogger for 10.000 values
USB interface (supplied with data transfer cable & software)
| Product type | Paper type | Density (kg/m³) | |
| --- | --- | --- | --- |
| 300 paper | Tissue, filter paper | 300 kg/m³ | |
| 350 paper | Tissue, filter paper | 350 kg/m³ | |
| 400 paper | Tissue, filter paper | 400 kg/m³ | |
| 450 paper | Tissue, filter paper | 450 kg/m³ | |
| 500 paper | Low density cardboard | 500 kg/m³ | |
| 550 paper | Low density cardboard | 550 kg/m³ | |
| 600 paper | Very low density paper | 600 kg/m³ | |
| 650 paper | Low density paper | 650 kg/m³ | |
| 700 paper | Low density paper | 700 kg/m³ | |
| 750 paper | Corrugating medium, fluting, Schrenz | 750 kg/m³ | |
| 800 paper | Newsprint | 800 kg/m³ | |
| 850 paper | Kraft liner, brown | 850 kg/m³ | |
| 900 paper | Kraft liner, white, top; test liner, brown | 900 kg/m³ | |
| 950 paper | Test liner, white; copying paper | 950 kg/m³ | |
| 1000 paper | Copying paper, LWC uncoated | 1000 kg/m³ | |
| 1050 paper | Satin-finish copying paper | 1050 kg/m³ | |
| 1100 paper | Satin-finish copying paper | 1100 kg/m³ | |
| 1200 paper | LWC calendered | 1200 kg/m³ | |
| 1300 paper | Brochure paper | 1300 kg/m³ | |
| 1400 paper | Brochure paper | 1400 kg/m³ | |
| 1500 paper | High density brochure paper | 1500 kg/m³ | |
| 1600 paper | Very high density brochure paper | 1600 kg/m³ | |
The PF5 is delivered as a complete kit including:
PF5 Moisture Meter
Calibration Test Plate
Plastic Case With Foam Filling
Rechargeable battery
User Manual
LogMemorizer Software
USB Data Cable
| | |
| --- | --- |
| Measuring Range | 1% to 25% |
| Resolution | 0,1% |
| Measuring depth | 50mm |
| Minimum material thickness | 50 mm |
| Pressure / Force | approx. 4 kg (To press PF5 on material) |
| Paper density range | 300 kg/m³ to 1600 kg/m³ |
| Temperature compensation | Automatic |
| Operating temperature | 0 °C to +80 °C |
| Temperature Resolution | 0,1°C |
| Temperature Units | °C or °F |
| Data Logger | Automatic data log for 10.000 logs with measuring point report |
| Data Output | USB interface (supplied with data transfer cable & software) |
| Display | 128x64 illuminated matrix display |
| Menu languages | German, English, French, Italian, Spanish, Portuguese, Czech, Polish, Russian |
| Device dimensions | 254 x 138 x 70 mm |
| Case dimensions | 450 x 360 x 106 mm |
| Device weight | 850 g |
| Weight of device + case | 2450 g |
| IR sensor measurement angle | 90° |
| Power supply | LI-Ion 1,800 mAh battery (60 to 100 operating hours) |
| Battery charging time | Up to 6 h |
| Current consumption | 60 mA (incl. display illumination) |
| Device IP rating | IP 40 |
| Warranty | 2 years |