M410a IVO Mechanical Meter Counter

Counter available in various models described below.
Counting in direction of defined rotation (adding).
Substracting in reverse direction.
5-digit, 9999.95 m
Max. 200.00 m/min. with measuring wheel
2 revolutions = 1.00 m displayed in relation with measuring wheel with circumference of 50 cm
MR Series 5 IVO Measuring wheels (50 cm circumference)
0.5m circumfence
5 different lining versions:
Aluminium, Cross knurl
Smooth Vulkollan
Knopped rubber
Smooth Hytrel
Grooved Hytrel
3 bore size diameters; 7mm, 10mm and 12mm.
More details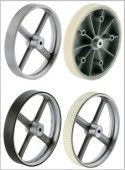 Counting mode:
In direction of defined rotation, adding. Subtracting in reverse direction.
Display:
5-digit, 9999.95 m/cm 1st wheel with dividing lines
Digit size:
Approx. 7 mm high, white on black background
Drive shaft:
Projecting on both sides, Ø 7 mm
Reset:
Reset to zero by pushing the lever (screwed on left or right side, at choice).
Max. Speed:
Max. 200.00 m/min. with measuring wheel
Base plate:
Steel of 2.5 mm thickness, galvanized
Housing material:
Gray plastic
Ambient temperature:
0...+60 °C
If the desired model is not shown in the list of prices, price is on request