M300 IVO Mechanical Meter Counter With Key Reset

Counter available in various models described below.
Counting in direction of defined rotation (adding).
Substracting in reverse direction.
Measuring up to
99 999.9 m
Max. speed with wheel of 20 cm: 100m/min. Without measuring wheel: max 300 m/min.
With key reset
MR Series 2 IVO Measuring wheels (20 cm circumference)
0.2 meter circumfence
5 different lining versions:

Aluminium, Cross knurl
Aluminium, axial and circumf. knurl
Knopped rubber
Smooth Hytrel
Grooved Hytrel

3 different Bore diameters
4, 6 or 7 mm
More details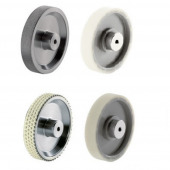 Display:
6-digit, 999 999
Digit size:
Approx. 4.5 mm high, white on black background
Reset:
Turn removable socket key on either side to reset
Drive shaft:
Projecting on both sides, Ø 4 mm
Housing material:
Gray plastic
Base plate:
Steel, galvanized
Ambient temperature:
0...+60 °C
Weight:
Approx. 130 g
Counting mode:
In sense of rotation to be defined, adding. Subtracting in reversed direction.
Measuring range:
99 999.9 m (decimal display in red)
Max. Speed:
With measuring wheel of 20 cm: max. 100 m/min.
Without measuring wheel: max. 300 m/min.