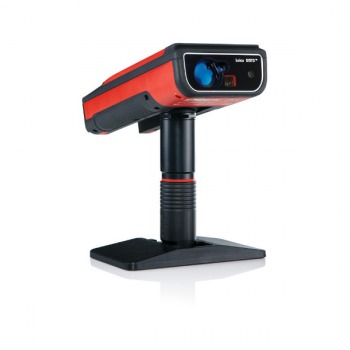 Click on an image for a larger image
Leica Disto S910 - Laser distance meter with SmartBase
The Leica DISTO S910 is the latest model of the laser distance meters by Leica that enables you to measure in three dimensions from the very same location. Like the DISTO D810 touch, the DISTO S910 comes with a modern touch screen, integrated camera and Bluetooth SMART. However, this model replaces the multifuctional end-piece for a new feature: the SmartBase.
SmartBase
Smart Base is a biaxial pivot integrated with the circuit board, and the key hardware innovation. Combined with a more powerful laser, a 360° tilt sensor, and new software, SmartBase enables the S910 to measure the distances and angles between multiple points.
SmartBase facilitates three new remote measurement functions:
Point-to-Point (P2P) measurement: By shooting two points (begin- and end-point), the S910 is able to determine distances, widths, diagonals, heights and gaps.
Smart Angle measurement: Shoot the corners of any polygon to determine the area of walls, floors, even complex roof shapes.
Smart Area measurement: Shoot three points to measure any angle (including outside angles).
Integrated camera makes measurements with pictures possible
Innovative touch screen
Pointfinder with 4x zoom
360° tilt sensor
Touch screen
Smart Horizontal Mode
Height tracking
Point-to-Point measurement
Smart angle measurement
Smart area measurement
DXF data capture
Free App
Bluetooth and WLAN interface
Li-ion batteries
SmartBase
ISO certificate
The Leica Disto S910 features multiple functions:
Distance measurement
Minimum / maximum measurement
Area / volume measurement
Triangle / room angle function
Painter function
Trapezium function
Pythagoras functions
360° Tilt measurement
Smart Horizontal mode
Sloped object measurement
Height tracking
Height profile measurements
Stake-out function
Substraction / addition
Pointfinder with 4x zoom
Camera Function
Measure with the picture
Timer
Personalised favourites
Touch screen
Compass
Point-to-Point measurement
Smart angle measurement
Smart area measurement
DXF data capture
WLAN data transmission
Bluetooth SMART
Accuracy
± 1.0 mm
Measuring Range
0.05 - 300 m
Measuring Units
m, ft, in
X-Range Power Technology
Yes
Distance in m
Ø of the laser dot in mm
10, 50, 100 m
6, 30, 60 mm
Tilt sensor measuring range
Accuracy to laser
360°
-0.1° / +0.2°
±0.1°
Units in the tilt sensor
0.0° / 0.00%
mm/m, in/ft
SmartBase measuring range
Horizontal
Verti

360°
-40° to 80°
Distance in m
Typical tolerance of P2P functio
2, 5, 10 m
2, 5, 10 m
Leveling range
± 5°
Leveling accuracy
± 0.05°
Point finder with 4x zoom
Yes
Overview camera
Yes
Picture file format
.jpg
Memory
50 displays
Memory for pictures
80 photographs
CAD date format
.dxf
Memory for CAD files
20 files, each with 30 points
Time delay release (timer)
Yes
Display illumination
Yes
Free software for Windows
Yes
Free App
iOS / Android
Data interface
Bluetooth SMART, WLAN
Measurements per set of batteries
Up to 4,000
Tripod Thread
SmartBase
Batteries
Li-ion rechargeable
Charging time
4h
Protection class
IP 54
Dimensions
164 x 61 x 32 mm
Wieght with batteries
290 g
The Leica Disto S910 touch will be delivered as a complete kit, including:
Leica Disto S910 touch laser distance meter
SmartBase Extension
Holster
Hand loop
USB charger incl. 4 plugs
All mentioned prices are excluding VAT & excluding shipment costs.
Availability: Available , preorder 1-2 weeks , special order, request