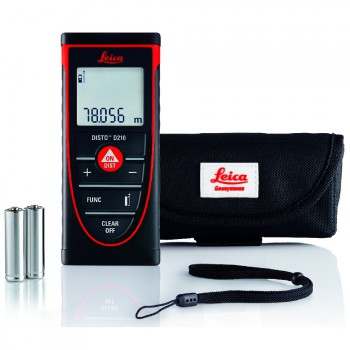 Click on an image for a larger image
Disto D210 Leica Disto D210 - Compact Laser Distance Meter
The Disto D210 Leica Disto D210 - Compact Laser Distance Meter is no longer available and has been replaced by Disto D2-BT.
Click here to see the Disto D2-BT.

The Disto D210 of Leica has a compact and handy entry-level model with many interesting functions, while it is still simple to use. Addition and subtraction, area and volume calculations for rapid and reliable site measurement.

In addition, the Leica Disto D210 is equipped with a Pythagoras function voor determining heights indirectly. The last 10 measurement results are stored.

Power Range Technology™ for a large measuring range and a clear visibility of the laser point
Automatic multifunctional end-piece for measuring out of corners, slots or from edges
Last 10 measurements are being stored
IP54 dust and splash water proof
Backlit, 3-line display for clear presentation of measurement results in all environmental conditions
Measurement functions:
- Min/ max measurement
- Continuous measurement
- Stake out function
- Addition/ substraction
- Area/ volume
- Painter function
- Pythagoras function with 2 and 3 points
Ergonomic and compact design with soft grip housing
Range
80 m
Average Accuracy
± 1 mm
Measuring Units
0.000 m, 0.00 ft, 0.00 in
1/32, 0.0 in, 0 in 1/32
Diameter of Laser Point
Ø van 6mm bij 10m
Ø van 30mm bij 50m
Ø van 60mm bij 100m
Protection Class
IP54
Battery Life
up to 5000 readings
Batteries
Type AAA 2 x 1.5 V
Dimensions
114 x 50 x 27 mm
Weight
126 g (including batteries)
HS code
90151000
EAN code
7640110693230
Warranty
2 years factory warranty (3 years after registration)
The Disto D210 is supplied as a complete kit, including:

- Leica Disto D210
- Protective holster
- Hand loop
- 2x AAA batteries
- User guide
- Safety Instructions
- Factory certificate