G-305 Incremental Encoder with 1 or 2 pulse tracks

The G 305 is a compact, mechanically driven rotary encoder. It uses optic electronics to convert the rotary movements into pulses. The G-305 has two tracks.
For axial or radial mounting
Simple encoder with low resolution
Drive shaft also protruding on both sides
Signals with clockwise rotation when looking at the flange.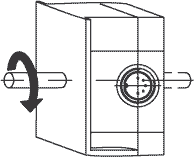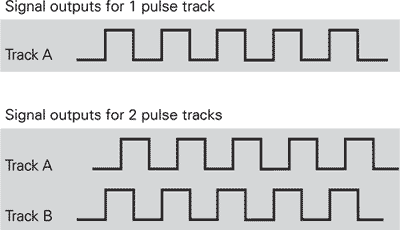 Plug
Cable color
Assignement
Pin 1
brown
UB
Pin 2
blue
GND
Pin 3
black
Track A
Pin 4
beige
Track B (2 pulse tracks)
n.c. (1 pulse track)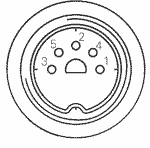 Operating voltage
10...30 VDC
Current consumption
Max. 40 mA (without load)
Resolution
Up to 120 pulses
Scanning frequency
Max. 10 kHz with 1 pulse track
Max. 6 kHz with 2 pulse tracks
Output stages
Push-pull
Speed
Max. 6000 rpm
Torque
< 0.002 Nm
Shaft loading
axial
< 5 N
radial
< 10 N
Material
Flange/housing
Glass-fiber reinforced plastic
Weight
Approx. 130 g
Operating temperature
0...+60 °C
Protection type
with housing plug
IP 30
PG with cable
IP 52
Humidity
Max. relative humidity 95 %,
non-condensing
All mentioned prices are excluding VAT & excluding shipment costs.
Availability: Available , preorder 1-2 weeks , special order, request