Raytek MT4 Hand-held non-contact infrared thermometer with Class II laser
This Raytek MiniTemp Non-Contact Thermometer is small enough to fit in a pocket and comes in two models: Raytek MiniTemp MT2 without laser sighting, or Raytek MiniTemp MT4 with laser sighting.

Both models have a temperature range from -18 to 275°C and a response rate of 500 mSec for each measurement reading. The distance to spot is 8:1.

The light-weight Raytek MiniTemp Non-Contact Thermometer is perfect for facility maintenance (both preventative and predictive), machinery inspection, equipment audits, electrical troubleshooting and a range of additional applications and uses.

Optional nylon holster sold separately.
For use in many applications
Large, back-lit display
Optional nylon holster available


Laser sighting
For work, home and recreational applications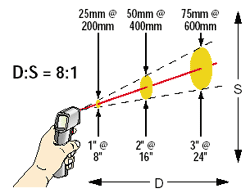 The MiniTemp is intended for close range targets, measuring a minimum target area of 25mm (1 inch) in diameter out to a distance of approximately 200mm (8 inches), and has a 15cm (6 inch) target measurement area at 1.5m (4 feet).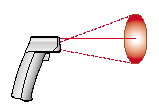 Laser Point™ Single-point laser indicates the approximate center of the target spot.





| | |
| --- | --- |
| Range: | -18 to 275°C |
| Accuracy (23°C ambient temperature): | -1°C to 275°C ±2% or ±2°C whichever is greater -18°C to -1°C ±3°C |
| Repeatability: | ±2% of reading, or ±2°C, whichever is greater |
| Response time: | 500 mSec, 95% response |
| Spectral response: | 7–18 µm |
| Emissivity: | pre-set 0.95 |
| Ambient operating range: | 0 to 50°C |
| Relative humidity: | 10–95% RH noncondensing |
| Storage temperature: | -20° to 65°C without battery |
| Weight / Dimensions: | 227 g ; 152 x 101 x 38 mm |
| Power: | 9V Alkaline or NiCd battery (included) |
| Battery life (Alkaline): | 12 hrs |
| Laser Class II: | Yes |
| Typical distance to target: | Up to 1.5 m |
| Distance to spot (D:S): | 8:1 |
| Additional options: | Nylon holster |