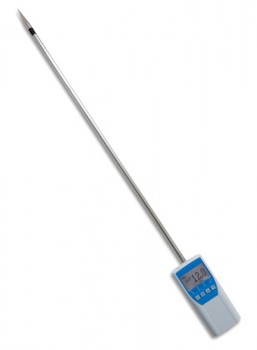 Click on an image for a larger image
MCT-HS Hay and Straw Moisture Meter With Stabbing Probe
2 Models available:
MCT-HS 8% to 40% with accuracy ±2%
MCT-HS-PRO 8% to 60% with accuracy ±1% & USB Output

Model MCT-HS for quick & accurate moisture content testing of Hay, Straw (and Miscanthus)

Moisture meter for measurement of water content in hay and straw bales with fixed 0.6 meter stabbing probe.

The MCT-HS has a measuring range up to 40% water content with an automatic compensation for highest possible accuracy.

Supplied with two separate built-in calibrations; one for Hay and one for Straw (also used for Miscanthus).


Directly mounted insertion probe
Hold function
Length of insertion probe: 0.6 meter
Automatic temperature compensation
Large, well-lit LC display
User-defined custom calibration available with MCT-HS-PRO
Supplied in custom wood carry case
Built-in datalogger for 10,000 values. Model MCT-HS-PRO is supplied with USB Output includes transfer cable & software
2-Year Warranty
- hay (bales)
- straw (bales)

The MCT-HS is delivered as a complete kit including:
- MCT-HS moisture meter,
- Wooden case,
- User manual.

The MCT-HS-PRO is delivered including:
- MCT-HS-PRO moisture meter,
- Wooden case,
- User manual,
- RS232 Connection module,
- Software & data link cable.


Accuracy
± 2% (MCT-HS)
± 1% (MCT-HS-PRO)
Measuring range
8% to 40% (MCT-HS)
8% to 60% (MCT-HS-PRO)
Resolution
0.5% (MCT-HS)
0.1% (MCT-HS-PRO)
Temperature Measurement
-20°C - 120°C
Length of insertion probe
0.6 meter
Power
4x 1.5 Volt AA batteries