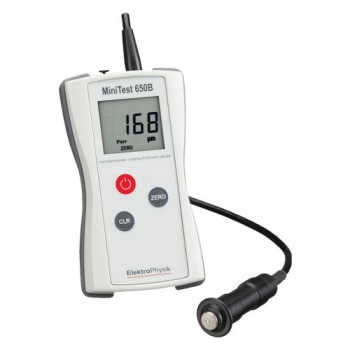 Click on an image for a larger image
MiniTest 650B - Basic Coating Thickness Gauge

2 Models Available:
With a accuracy of ± (2 μm + 3 % of reading)
MiniTest 650B-F
- Magnetic-induction sensor for measurements on steel substrates (Ferro)
MiniTest 650B-FN
- Dual sensor for measuring on both, steel and non-ferrous metals working on two principles: magnetic induction and eddy currents to measure non-magnetic coatings on iron and steel as well as insulating coatings on non-ferrous metal substrates. (Ferro & Non Ferro)
The rugged coating thickness gauge MiniTest 650B follows its long-time proven predecessor model MiniTest 600 in the line of gauges with a fixed external probe offering measurement of all non-magnetic coatings on steel and all insulating coatings on non-ferrous metals. It is especially designed to work in rough environments as well as on on abrasive surfaces, e.g. shot-blasted steel, plasma spray coated surfaces.
The MiniTest 650B is the ideal tool for any measuring task in the finishing industry.
The rugged and easy-to-handle thickness gauge combines extended mechanical life on the one hand and high accuracy on the other hand to meet the requirements of any professional user in the shipbuilding, automotive, bridge building, construction or other industry.
The battery-operated gauge features a backlit display and a one meter sensor cable. The newly developed one pole sensor is made of a wear and tear resistant carbide material to ensure a virtually unlimited life cycle under normal condition use.
An optimal ram- and impact-protection is provided through the rubber rimmed casing.
Accuracy: ± (2 μm + 3 % of reading)
Rugged and easy-to-handle coating thickness gauge
Ram- and impact-protected through rubber rimmed casing
Sensor with newly developed wear-resistant carbide metal tip
Coating thickness measurement up to 2 or 3 mm
External sensor
DIN EN ISO 1461, 2178, 2360, 2808, 3882, ASTM B 244, B 499, D7091, E 376
For fast and precise measurements of non-magnetic coatings on steel and insulating coatings on non-ferrous metals
Automatic identification of the substrate material
Proven measuring methods
Measuring Range
Model F(Ferro sensor): 0 … 3000 μm
Model FN (Dual sensor): 0 … 2000 μm
Measuring Uncertainty
± (2 μm + 3 % of reading)
Minimum curvature radius convex
10 mm
Minimum curvature radius concave
50 mm
Minimum measuring area
ø 50 mm
Minimum base thickness:
0,7 mm (F) / 0,1 mm (N)
Display
4-digit screen data (11 mm)
Measuring units
according to model: ìm/mm or mils/inch
Calibration
factory calibration , zero-point calibration
Power supply
3 Micro AAA batteries (for more than 10,000 readings)
International standards
DIN EN ISO 1461, 2178, 2360, 2808, 3882, ASTM B 244, B 499, D7091, E 376
Dimensions and weight
Housing: 70 mm x 122 mm x 32 mm
Sensor: Ø 15 mm x 62 mm / Ø 0.60; 225 grams
Ambient temperature
Gauge: 0 to 50 °C
Sensor: -10 ° to 70 °C
Warranty
1 year
The MiniTest 650B Coating Thickness Gauge is delivered as a complete kit with:
MiniTest 650B
Steel testplate for Ferro model or Steel-, and Aluminium test plates for FN model
Calibration foils
Operating instructions
Gauge tether
Belt pouch
Works Certificate
All mentioned prices are excluding VAT & excluding shipment costs.
Availability: Available , preorder 1-2 weeks , special order, request