MiniTest 3100 Coating Thickness Gauge
The MiniTest 3100 Coating Thickness Gauge is no longer available and has been replaced by MiniTest 2500 - 4500.
Click here to see the MiniTest 2500 - 4500.

The MiniTest 3100 gauge is a small universal gauge designed for non-destructive coating thickness measurement that offers different posibilities for processing measuring values.
There is a variety of probes available that can be connected to the MiniTest 3100. To select the most suitable probe, the thickness of the coating to be measured as well as the thickness of the substrate and the geometry have to be taken into consideration. We offer you a range of probes suitable for standard as well as for special applications.
Using the replaceable probes, the MiniTest 3100 is able to perform coating thickness measurement on both steel and non-ferrous metals. For measurements on steel, the magnetic induction principle is used allowing measurement of all insulating coatings, e. g. paint, enamel etc., and non-ferrous metals on steel and ferrous metals. Probes working on the magnetic induction principle are referred to as F-probes. For measurements of insulating coatings on non-ferrous metals, the eddy current principle is used. Probes working on this principle are referred to as N-probes.
Wide range of wear resistant probes which can be adapted to different applications
Universal probe with automatic substrate detection allows fast measurement on steel and non-ferrous metals
Wear resistant probes of practically unlimited lifetime
High measuring accuracy and reproducibility
Storage and evaluation of measuring values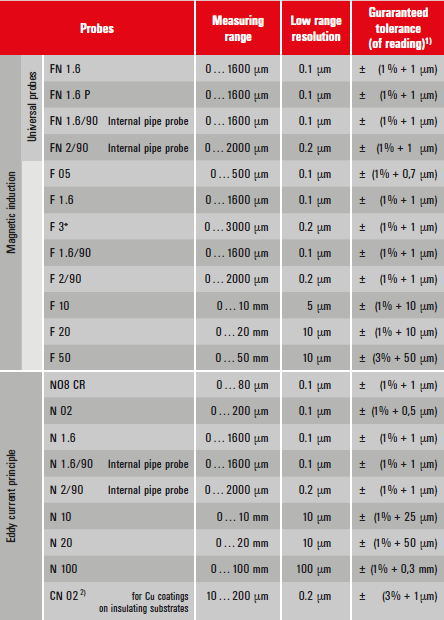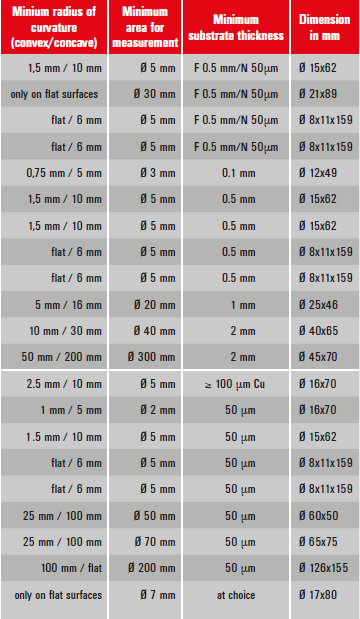 Measuring Range
Probe dependent, see overview
Memory
max. 10,000 individual readings
Number of application memories
10
Number of batches for each application memory
10
Number of batches with individual value memories
max. 100
Measuring Units
microns / mils
Power Supply
1 x 9V alkaline battery or AC adapter
Battery Life
10,000 measurements
Conforming Standards
DIN 50981, 50982, 50984, ISO 2178, 2360/BS 5411/ASTM B499, B244 – CE
Operating Temperature
Gauge: 0 - 50 °C
Probe: -10 - 70 °C
Dimensions
150 x 82 x 35 mm
Weight
270 g