TA134 IVO Tachometer with 2 Limits and Multifunction
High quality tachometers by IVO, available in many configurations shown below. The TA134 is equipped with a mounting plate to install the tachometer in many applications.
With two limits and scaling
Interface RS485
Batch counter with scaling factor to be programmed from 0.0001...9999.99
Pin assignment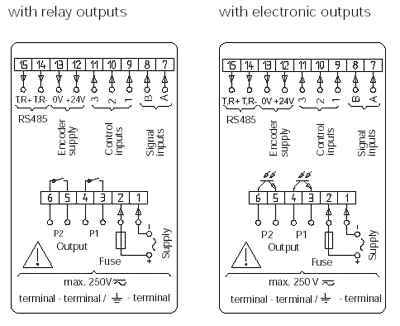 Display:
7-segment LCD-display with 2 rows of digits and background illumination
6-digit tacho display, 7 mm high
6-digit display of limit values, 4 mm high
Decimal point can be programmed
Suppression of leading zero
Measuring units can be programmed "1/h", "1/min", "1/s"
Operation, keypad:
Front membr. with short-stroke keys
Front dimensions:
DIN housing 48 x 48 mm
Mounting:
Front-plate installation
Fastening:
By means of clamping frame
Weight:
Version AC: approx. 260 g
Version DC: approx. 140 g
Type of connection:
Plug-in screw terminals
Grid 5.08 mm / 3.81 mm
Core cross-section:
Max. 1.5 mm2
Housing material:
Polycarbonate black, UL 94V-0
Ambient temperature:
0...+50 °C
Storage temperature:
-20...+70 °C
Relative humidity:
Max. relative humidity 80 %, at 25 °C, non condensing
Protection:
Front IP 65 to DIN 40050
General rating:
EN 61010 Part 1
- Protection class II
- Overvoltage protection categ. II
- Contamination factor 2
Interference immunity:
EN 50082-2
Emitted interference:
EN 50081-1
Supply voltage:
Choice of two voltages (AC) via switch on device.
Always set to higher voltage when supplied.
115 / 230 VAC ±10 % (50 / 60 Hz)
24 / 48 VAC ±10 % (50 / 60 Hz)
12...30 VDC 5 % RW ±10 %
Power consumption:
5 VA, 4 W
Sensor supply:
10...26 VDC / 60 mA
Signal inputs:
Comparator inputs PNP, NPN or AC logic, NAMUR
Voltage level 4 V...40 V
Input resistance 3 kOhm
Tachometer rate:
25 Hz, 40 kHz
Counting rate:
3 Hz, 25 Hz, 10 kHz (batch counter)
Control inputs:
3 control inputs to be programmed as Reset, Stop, Hold, Print, Keylock etc.
Relay signal outputs:
2 floating relays to be programmed as normally closed or open
Internal spark suppression
Max. switch. voltage 250 VAC /110 VDC
Max. switch. current 1 A
Max. switch. capacity 150 VA / 30 W
Electronic outputs:
Optocoupler
Max. switching voltage 50 V
Max. switching current 25 mA
Data back-up:
> 10 years via EEPROM
If the desired model is not shown in the list of prices, price is on request