NE134 Multifunctional Counter with one or two presets

IVO multifunctional counter with one or two presets. Can be used in a wide variety of applications.
Timer with four different time ranges, time relay function with pickup and dropout delay. Start value can be programmed. Also the scaling factor can be programmed.
Block diagram
Pin assignment
Positive and negative counting range for main counter and totalizer
Start value can be programmed
Interface RS485
Batch counter with or w/o preset
Scaling factor can be programmed 0.0001...9999.99
Preselection mode can be programed:
- Progressive preselection
- Trailing preselection
Optional available for counter NE134
Z 118.033
Adapter plate for screw fixture
Z 118.034
Adapter plate for clamping bracket fixture
Z 118.035
Adapter plate for clamping bracket fixture with large front plate
See below for dimensions...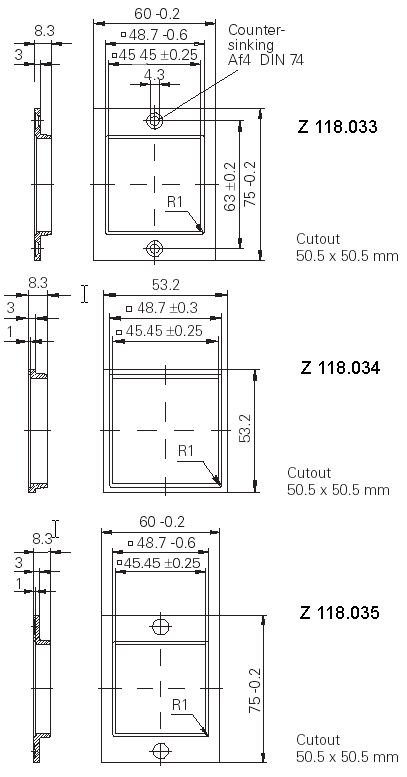 Display:
LCD-display with 2 rows of digits Yellow background illumination
6-digit displ. of real value, 7 mm high
6-digit displ. of set value, 4 mm high
Decimal point can be programmed
Suppression of leading zero
Measurement units can be progr. in "m", "dm", "cm", "mm", "l"
Operation, keypad:
Front membr. w. short-stroke keys
Front dimensions:
DIN housing 48 x 48 mm
Mounting:
Front installation
Weight:
Version AC: ca. 260 g
Version DC: ca. 140 g
Type of connection:
Plug-in screw terminals
Grid 5.08 mm / 3.81 mm
Core cross-section:
Max. 1.5 mm2
Housing material:
Polycarbonate black, UL 94V-0
Membrane material:
Polyester
Supply voltage:
Choice of two voltages (AC) via switch on device. When supplied, always higher voltage adjusted.
115 / 230 VAC ±10 % (50 / 60 Hz)
24 / 48 VAC ±10 % (50 / 60 Hz)
12...30 VDC ±10 %, 5 % residual ripple
Power consumption:
5 VA, 4 W
Sensor supply:
12...26 VDC / 60 mA
Signal inputs:
Comparator inputs
PNP, NPN or AC-logic, NAMUR
Voltage level 4...40 V
Input resistance 3 kOhm
Counting rate:
Main counter: 3 Hz, 25 Hz, 10 kHz
Batch counter: Max. 20 Hz
Control inputs:
3 control inputs for reset, stop, hold, print, keylock etc.
Signal outputs:
Can be programmed as momentary or permanent signals
Impulse time can be programmed 0.01...99.99 s
Relay signal outputs:
2 floating relays to be programmed as normally open or normally closed contact
Internal spark suppression
Max. switch. volt. 250 VAC/110 VDC
Max. switch. power 1 A
Max. switch. capacity 150 VA /30 W
Electronic outputs:
Optocoupler
Max. switching voltage 50 V
Max. switching power 25 mA
Data storage:
> 10 years via EEPROM
Operation modes:
To be programmed as adding or subtracting
Counting mode of signal inputs A / B:
UP / DOWN, A - B, A + B, A 90° B x1, A 90° B x2, A 90° B x4
Ambient temperatue:
0...+50 °C
Storage temperature:
-20...+70 °C
Relative humidity:
Max. relative humidity 80 %, at 25 °C, non-condensing
Protection:
Front IP 65 to DIN 40050
General rating:
EN 61010 Part 1
- Protection class II
- Overvoltage protection categ. II
- Contamination factor 2
Interference immunity:
EN 50082-2
Emitted interference:
EN 50081-1
If the desired model is not shown in the list of prices, price is on request