RX-2000 Max-Hand Durometer

The RX-2000 durometer is the latest innovation for the testing of specimens with creep.
The RX-2000 has a max-hand and an active hand for observing the creep characteristics of a specimen.
What makes the RX-2000 unique is the magnetic-drag maximum reset mechanism. The user simply rotates the reset knob on the front of the gauge to clear the previous reading. The simplicity of the reset mechanism ensures a lifetime of use, and makes the RX-2000 the most affordable durometer for testing specimens with creep.

All RX-2000 models are supplied with a NIST traceable calibration certificate.

Includes NIST traceable Calibration Certificate
Holds Reading Until Reset
Reads Maximum and Creep
Conforms to ASTM D-2240
One year warranty
Custom Made Carrying Case
Cost Effective, Hand Operated
Category Durometer Stands
Durometer stands are used in combination with any of Checkline's durometers to help minimize the influence of the operator and to improve accuracy.
More details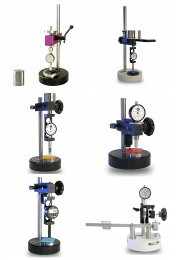 The RX-2000 is supplied as a complete kit including the durometer & instruction manual in a foam-fitted metal carrying case.

| | |
| --- | --- |
| Measuring Range | 0 - 100 units |
| Accuracy | ±1 durometer unit (A,B,C,D,E,O,DO) |
| Dimensions | 2.25" x 6.125"H |
| Weight | 6 oz. |
| * Note | per ASTM D 2240-05, Sect 9.3: It is accepted that durometer readings below 20 or above 90 are not considered reliable. It is suggested that readings in these ranges be omitted. |
All mentioned prices are excluding VAT & excluding shipment costs.
Availability: Available , preorder 1-2 weeks , special order, request