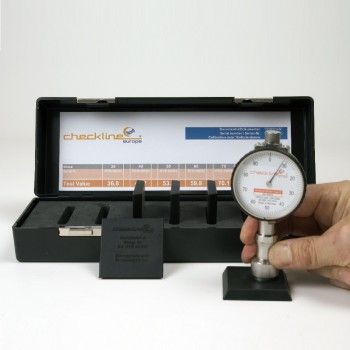 Click on an image for a larger image
HB-TBK-A Shore A Test Block Kit

The
HB-TBK-A Shore Hardness Testblock Kit
with different values of hardness. As a reference check it will indicate if a durometer is operating within tolerances. The individual testblocks are provided with serial numbers to guarantee incontestable identification. Comes with custom made carrying case.
Place the
durometer
on the desired testblock and press on it untill its base reaches the surface. Read the measured value in accordance with the value on the test block.
This
Shore Hardness Testblock kit
gives the user the ability to develop the proper "feel" and will assist in helping to maintain durometer read-out accuracy for science, manufacturing, research and development. The test kit consists of
7 test blocks
.
The hardness values are ranging from 30 durometer to 90 durometer type A.
A durometer should never be calibrated with test blocks. We therefore strongly recommend an annual calibration of the durometer. Please contact
Checkline Europe
if you would like to make an appointment for a calibration.

The HB-TBK-A Testblock kit comes with:
7 Testblocks
Calibration Certificate
User Manual
Plastic case with foam padding
7 test blocks: shore range 30 to 90
54 mm x 54 mm x 8 mm
According to DIN ISO 7619-1
Calibration Certificate
| | |
| --- | --- |
| Norm | According to DIN ISO 7619-1 |
| Dimensions | 7 test blocks 54mm x 54mm x 8mm |
| Range | Shore 30 to 90 |
| Weight | appr. 520 gram |
AD-300 High End Durometer
Ergonomic foot offers stabile pressure
Highly accurate and repetitive
Conform to DIN ISO 7619-1, ISO 868, ISO 7619-1 and ASTM D 2240
More details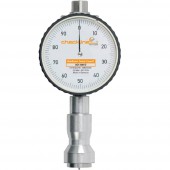 DD-300 Digital Precision Durometer
Highly accurate and repetitive
Timer function to take measurement after (0-15) seconds.
Conform to DIN ISO 7619-1, ISO 868, ISO 7619-1 and ASTM D 2240
No internal friction due to precision engineered bearing system for internally moving parts.
More details