Durometer V-Block V-Block & Base plate for O-rings and small samples
Our V-block and base plate allow precise hardness measuring of O-rings and small rubber pieces. Use our PTS-HP Durometer test stand for greater accuracy and repeatability.


Allows precise, repeatable measurement of small samples
PTS-HP Durometer Test Stand
Mechanical lever-operated test stand for use when precise positioning is required on the test sample (i.e. o-ring, etc.).
Operation is as simple as rotating lever until shell on durometer reaches red line.
More details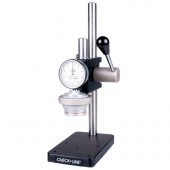 3000-PTS Coating Thickness Gauge Test Stand
Spring loaded lever for fast & precise travel
More details