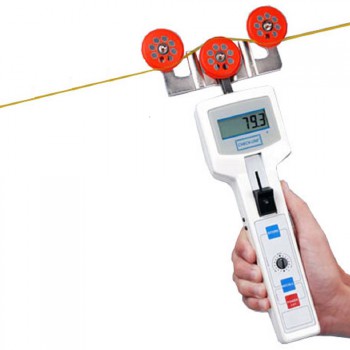 Click on an image for a larger image
DTFB - DTFX Digital Tension meter with large rollers

Digital Tension meter with large rollers to minimize bending of sensitive materials like fiber optics, carbon and technical fibers.
The model DTFB is recommended where the DTMB cannot be used.
The DTFX is can be used in places where the DTMX cannot be used.

Note: This model does not include a material thickness compensator.

Large, V-grooved guide rollers with 32 mm groove diameter, ball-bearing mounted
Special guides on the bracket assembly permit easy material acquisition
Filament guide and roller shifting mechanism ensure easy acquisition of the running material
Rugged aluminium housing
Specific Test Report with calibration report optionally available
Large bending radius assures gentle handling of the material being measured
Everything in operator's view:
- the guide rollers
- the measured material
- the readings
Ball-bearing mounted, V-grooved guide rollers
Battery operated (AC adapter for continuous operation available)
Model
Ranges
SCHMIDT Calibration Material**
Resolution
Measuring Head Width*
DTFB-200
2 - 200 cN
PA: 0.12 mm Ø
0.1 cN
140
DTFB-500
5 - 500 cN
PA: 0.20 mm Ø
0.1 cN
140
DTFB-1000
50 - 1000 cN
PA: 0.30 mm Ø
0.1 cN
140
DTFX-200
2 - 200 cN
PA: 0.12 mm Ø
0.1 cN
140
DTFX-500
5 - 500 cN
PA: 0.20 mm Ø
0.1 cN
140
DTFX-1000
50 - 1000 cN
PA: 0.30 mm Ø
0.1 cN
140
Other units of measure available, such as g.
** Suitable for 95% of applications - PA = Polyamide Monofilament

Measuring Head Width* 140 mm (Outer distance between outside guide rollers)

Special calibration using customer supplied samples is recommended, if process material differs significantly from the SCHMIDT calibration material in diameter, rigidity or shape. For this purpose a material sample of about 5 m should be supplied.
Order Code
Line Speed
...m/min
Roller Material
Standard
4000
Hardcoated aluminium
Code T
4000
plastic red (PVC)
Delivery includes:
Tension meter with carrying case and batteries, operating instructions in English or German as requested

Calibration:
According to SCHMIDT factory procedure
Accuracy:
for 10% to 90% of range:
± 0.5% full scale and ± 1 digit
remaining range and other calibration material:
± 3% full scale and ± 1 digit
Overrange:
Approx. 15% full scale, without accuracy guarantee
Overload protection:
100% of tension range
Measuring principle:
Strain gauge bridge
Measuring roller deflection:
0.2 mm max.
Signal processing:
Digital
Measuring frequency:
62 measurements/sec
Temperature coefficient:
Gain: less than ± 0.01% full scale/°C
Zero point: less than ± 0.3% full scale/°C
Display:
4-digit LCD, 12 mm high
Display update rate:
0.5,1,2 or 4 seconds selectable
Memory:
Last, MIN, MAX, PEAK values
Field adjustment:
± 7 steps in 1.5% increments
Temperature range:
10 - 45ºC
Air humidity:
85% RH, max.
Power supply:
4 size AA batteries 1.5 V
(about 20 hours of continuous use)
Auto power off:
After 2 minutes of non-use
Housing material:
Die-cast aluminium
Housing dimensions:
235 x 76 x 45 mm (L x W x H)
Weight, net (gross):
approx. 680 g (1500 g)
Specifications for Model DTFX, same as Model DTFB plus:


Extended memory:
up to 100 tension values, average, standard deviation
Digital output:
RS232C (4800, 8, N, 2)
Analog output:
0-1 V DC (conversion rate 16 ms)