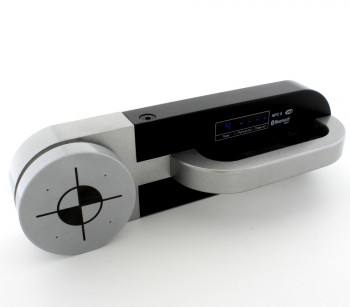 Click on an image for a larger image
BlueForce Impact Force Gauge
BlueForce Smart - Impact force gauge with USB/Bluetooth and software for CE certification of power-operated gates and doors .

BlueForce Smart is a high quality impact force gauge for automatic/power operated doors and gates that complies with standards EN12453 (former EN12445), EN16005, EN60335-2-95, DHF UK Norms.

BlueForce is one of a kind, with its dual Bluetooth and USB interface.

Thanks to the PC-LINK mode, BlueForce can be linked up to a handheld computer or a PC during testing, allowing immediate viewing of the graph and values. It simultaneously enables immediate access to test results.

The comfortable handle, in an accessible and ergonomic position, ensures a steady grip and matchless manoeuvrability. The handle is easy to remove by using the supplied key and can be rotated by 180° (i.e. turned upside down).
Memory capacity increased by 60%: enables storage of an impressive 80 tests on the instrument
Options include: sending, deleting and browsing saved tests (through an interactive menu)
BlueForce Smart is a dual purpose gauge, as it incorporates both a display and internal storage allowing up to 80 measurements to be saved
Optionally available on payment - compatible with smartphones equipped with active NFC and Internet connection.
New blue led alphanumerical display: The indestructible display with 7 segments is even brighter and more legible thanks to the blue colouring
New built-in internal clock: for simpler and quicker identification of the tests performed, thanks to automatic memorisation of the date and time of measurement.
Optionally available on payment - compatible with smartphones equipped with active Bluetooth 4.0 version or later and Internet connection. Requires installation of the free App, currently available for iOs.
New generously sized and sturdy carry-case
Direct display of numerical test parameters: dynamic force, dynamic time, average static force, final force.
USB port: enables connection of the instrument to a PC with Windows OS to download and manage tests performed with the supplied software
Optionally available on payment: Bluetooth v. 4.1 technology enables interfacing of the BlueForce with a PC
The complete BlueForce kit is supplied:
BlueForce Smart Instrument
Bluetooth/NFC Smart functions + App
Carry-case with pre-formed interior
USB cable for PC
Hex wrench for handle disassembly
Instructions / Software / Certificate of Calibration downloadable from download section
Accuracy
0 - 400 N: 1%
401-1000 N: 2%
1001 - 2000 N: 4%
Force measurement resolution
1 N
Force measurement range
0 - 2000 N (mechanical stop at approx. 2100 N)
Current Absorbed
min. 4 mA, average 12 mA, max. 80 mA
Measuring Interval
6 sec. sampling 1 Ksmp/s
Memory capacity
80 tests
Maximum force measurement error margin: range from
+/-1% F.S; from 400 to 1000N: +/-2% F.S; from 1000 to 2000N: +/-4% F.S;
Dynamic time measurement resolution
0.01 s
BLE interface
Bluetooth version 4.1 (enabled as an option via password)
NFC interface
standard ISO/IEC 14443 and NFC Forum Type 4 (enabled as an option via password)
Interface
USB 2.0
BLUETOOTH® Ver. 4.1 (enabled via password)
NFC per ISO/IEC 14443 & NFC Forum Type 4
Power supply
9V battery (alkaline)
Testing Standards
Complies with EN12445, EN12453, EN16005, EN60335-2-95
Weight
1.6 kg ± 10%
Dimensions (L x W x H)
280 mm X 80 mm X 50 mm ± 5%
Warranty
2 years
Linear Extension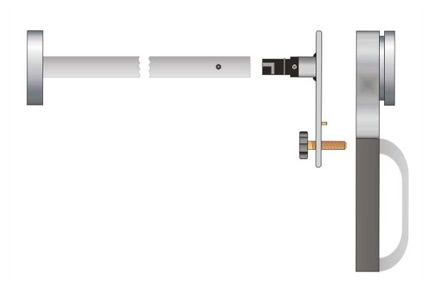 Angular Extension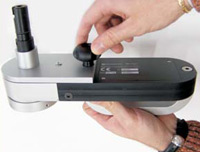 During the use, the instrument has to be supported in a way to not alter the results of measurements.
The optional accessories, thanks to the fast-joint mechanism, allow the user to carry out measurements by using only one hand. With the other hand, the user is able to drive the opening/closing device.
There are two versions available: the Linear Extension, for measures at 30 or 50 cm and the Angular Extension, for measures from 1.25 m to 2.5 m. This also requires use of the Straight Extension.