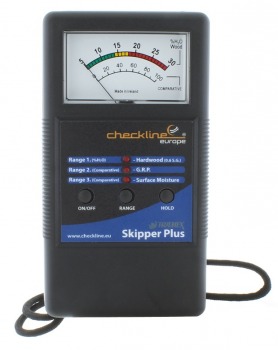 Click on an image for a larger image
Tramex Skipper Plus Marine Moisture Detector (Non-Destructive)
Tramex Skipper Plus is a non-destructive moisture meter for the marine industry

The Tramex Skipper Plus non-destructive moisture meter provides a complete, safe method for detecting excess moisture in GRP and wooden boats. Three scales of sensitivity allow moisture detection in salt or fresh water.

Moisture can cause peeling and blistering of applied finishes and treatments, newly applied finishes can fail prematurely if the wood it is applied to is not sufficiently dry. Hidden or trapped moisture can lead to mold and biological growth.

The Tramex Skipper Plus can be moved across the surface of the boat to moisture survey in a fast and thorough manner, detecting moisture non-destructively through paint and coatings on wood up to a depth of 1.25". The Tramex Skipper Plus can also be used to detect leaks and trace them to source both above and below decks.


Early detection before blistering appears
Identifying the affected area
Monitoring hull during de-humidification and repairs
Checking stripped or peeled areas for dryness prior to re-coating
The Tramex Skipper Plus moisture meter detects moisture in wood or GRP (Glass Reinforced Plastic) by measuring the resistance between two low frequency AC signals transmitted from the soft rubber electrodes on the base of the instrument.

Because salt water is more conductive than fresh water, the Skipper is fitted with different ranges of sensitivity to allow testing of wood or GRP in either fresh or salt water environments.

Simply select the correct scale:
Scale 1: Moisture content in hardwood for fresh water (%H20)
Scale 2: Moisture in GRP (Comparative)
Scale 3: Surface Moisture(Comparative)

Non-destructive detection and measurement of moisture in wooden boats, GRP (Glass Reinforced Plastic) boat hulls, wooden parts, components, decks etc.
External rubber electrodes in direct contact with material being tested for best sensitivity, repeatability and greater depth of signal penetration.
Wide range of readings for wood of 5 to 30% on hard wood scale and 0 to 100 on comparative scale for GRP and other materials.
Large, clear, easy to read display giving meaningful readings
Automatic power cutoff switches "Off" when not in use to save Battery
Confirm if wooden boats are dry before painting or varnishing
Early detection before blistering appears
Identify extent of moisture affected area
Check stripped areas prior to re-coating
Deep signal penetration to detect elevated moisture through most covering and coating materials and deep into the core of composite hulls without having to damage or puncture the material being tested.
Hold function enables user to "freeze" the reading, useful when taking readings in awkward places where the meter face may not be visible.
Three measurement ranges optimized for testing of different materials such as hardwood, GRP and surface moisture.
High moisture audio warning tone that can be switched on or off
Identify the presence of moisture osmosis in fiberglass hulls
Check if racing boats are carrying excess moisture weight
Trace deck and bulkhead leaks
Monitor hull during dehumidification
The Tramex Skipper Plus Non-Destructive Marine Moisture Detector is delivered as a complete kit including:
- Tramex Skipper Moisture Meter
- Carrying Pouch
- Instruction Manual
- 9 Volt Battery


Display:
Analog Meter
Range:
5% to 30% on hard wood moisture content
0 to 100 on comparative scale for GRP and other materials
Measurement depth:
± 1.25 (32 mm)
Measuring method:
Non-destructive signal resistance
Measurement frequency:
31 KHZ
Electrodes:
co-planar conductive rubber
Net weight:
9 ounces (260g) including battery
Dimensions:
6 x 3.2 x 1.2" (150 x 80 x 30 mm)
Battery:
9v battery
Warranty:
1 year
Tramex Check Box
Check Boxes for Non-Destructive Moisture Meters
Checks: 3 different ranges
Easy to use
Tolerance: ± 1%
More details