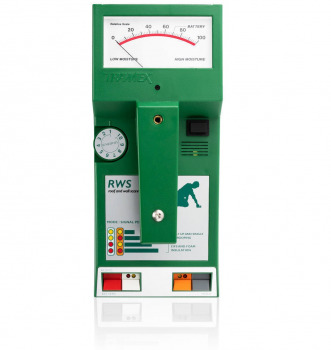 Click on an image for a larger image
Tramex RWS Tramex Roof & Wall Moisture Scanner
The Tramex Roof & Wall Moisture Scanner is extremely easy to use and provides quick and accurate readings of moisture in roofs, walls, and EIFS (Exterior Insulation Finish Systems).

The RWS has dual operating modes for Roofing and EIFS. Each of these modes has two sensitivity ranges for both deep penetration and low penetration sensitivity enabling the user to scan EIFS and roofing with a signal penetration ranging from the surface up to approximately 4 inches. The RWS non-destructively evaluates moisture and traces leaks back to the source.

As an ideal moisture meter for when you need non-destructive readings, this unit helps inspectors and contractors easily find leaks and trace them back to the source.

The unit is lightweight and includes a 9V battery and a telescopic handle.


For tracing leaks into the waterproofing membrane back to the source
The adjustable sensitivity is the perfect feature to locate the leaking source very precisely.
Instant clear readings
Lightweight, hand held and battery operated
Fast and easy to operate
"Hold" function facilitates ease of recording readings
A combination of Tramex's Leak-Seeker and WWD Wet Wall Detector
For non-destructive moisture evaluation of roofs and EIFS building envelope
Multi-mode moisture scanner for non-destructive moisture detection and leak tracing for:
- Built-Up
- Non-Conductive Single Ply
- Modified and Foamed Roofing Systems
- Exterior Insulation and Finishing Systems (EIFS)

The RWS is available as complete kit, which includes the following:
- RWS Roof and Wall Scanner,
- Tramex Professional Digital LCD,
- Hole Punch,
- Hand Held Probe,
- Infrared surface thermometer,
- Telescopic Handle,
- Manufacturer certificate,
- User manual,
- Plastic carrying case with foam filling


The RWS roof and wall scanner can also be ordered separately, it will then be supplied including the following:
- RWS Roof and Wall Scanner,
- Telescopic Handle,
- Manufacturer certificate,
- User manual,
- Protective pouch


Dimensions:
4.75"x 11" x 3"/125mm x 275mm x 75mm
Sensitivity:
Four ranges:EIFS Mode with high and low sensitivity.Roofing Mode with high and low sensitivity.
Accessories:
Leather carrying case.Telescopic handle for use on roofing only.
Product name
Price
Quantity
All mentioned prices are excluding VAT & excluding shipment costs.
Availability: Available , preorder 1-2 weeks , special order, request