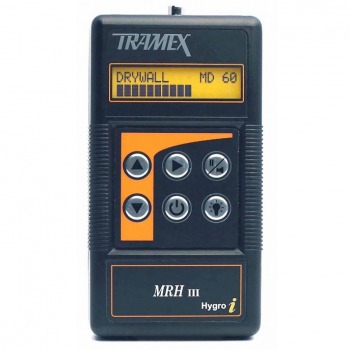 Click on an image for a larger image
Tramex MRH III Digital Moisture & Humidity Meter
The new MRH is an electronic impedance moisture meter for non-destructive measurements. The small pocket size make this hand held gauge ideal for use in different industries, e.g. flooring, indoor air quality, water restoration, pest control, inspection/surveying.

The parallel co-planar electrodes on the base transmit a low-frequency signal into the material under test. For carrying out a test, simply hold the the MRH III to the surface. The MRH can be used on wood, plaster / brick, tiles and plasterboard (drywall). The gauge has plug-in ports for optional probes.



Digital, non destructive meter.
Specific Gravity adjustment for most wood species.
Deep signal penetration up to over 1" into the materials being tested without the need to damage the surface.
External Rubber electrodes make direct contact with the material being tested for best sensitivity and repeatability.
Wide range of readings for wood of 5% to 30% and 0 to 100 comparative for all other materials.
"Hold Function" enables user to "freeze" the reading. Useful for taking readings when the meter face is not visible.
Switchable "On" or "Off" audio warning tone.
Automatic Power Shuttoff switches "Off" when not in use.
Automatic Default to last user settings when switched back on.
5 different measurement scales: wood, roofing, masonry, drywall, laminate.
The MRH-3 operates on the principle that the electrical impedance of a material varies with its moisture content. The electrical impedance is measured by creating a low frequency alternating electric field between the electrodes as illustrated in Figure 1 below.
This field penetrates the material under test. The very small alternating current flowing through the field is inversely proportional to the impedance of the material. The instrument detects this current, determines its amplitude and thus derives the moisture value.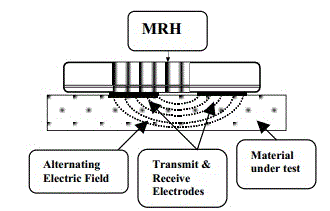 The MRH III is available as complete kit, which includes the following:
- MRH III
- Relative Humidity Probe
- Hand Held Wood Moisture Probe
- Infrared surface thermometer
- Manufacturer certificate
- User manual
- Plastic carrying case with foam filling

The MRH III can also be ordered separately, it will then be supplied including the following: - MRH III
- Manufacturer certificate
- User manual
- Protective pouch


| | |
| --- | --- |
| Power supply: | 9 Volt Battery (included) |
| Warranty: | 1 year |
BSIZK5.2 - Tramex Building Survey Inspection EZ Kit (MRH3, RHP-SW, HH14TP30, SP200, 6 HOLE LINERS)
All mentioned prices are excluding VAT & excluding shipment costs.
Availability: Available , preorder 1-2 weeks , special order, request