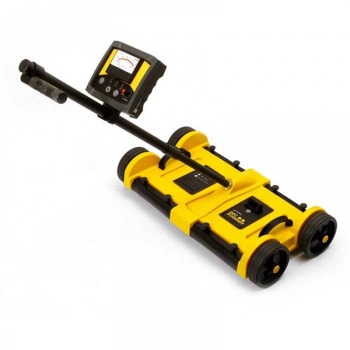 Click on an image for a larger image
Tramex Dec Scanner Moisture Meter
The Tramex Dec Scanner is a mobile non-destructive moisture detection instrument on four wheels, which allows for quick scanning of large roof areas with instant, accurate results.

The Dec Scanner has been designed specifically to detect leaks and determine if moisture penetration has taken place. The Dec Scanner provides instant and continuous, non-destructive readings on a clear view analog dial with audio warnings on areas of high moisture. It is also equipped with 3 sensitivity ranges to accommodate virtually all roof surfaces and conditions:

- SCALE 1: Used over a smooth surface where areas of insulation are saturated and where most of the moisture is close to the surface.

- SCALE 2: Used over a smooth or gravel surface where insulation may be less saturated and where water has only partially penetrated the insulation.

- SCALE 3: The most sensitive scale, this is used over gravel surfaces to detect very small quantities of water near the surface, or heavier concentrations at a greater depth.

The Tramex Dec Scanner is able to detect as little as 2% excess moisture. Through continuous operation for uninterupted coverage, the Dec Scanner provides instantaneous, clear indications of roof conditions. The Dec Scanner is able to perform tests on thinner roofs and locates boundaries of wet areas in minutes. Also, it is more than twice as fast as nuclear meters whereas it is only a fraction of the cost of airborne and on the roof infrared systems. Besides, it is easy to use and there is no training or license required.


Non-destructive moisture testing and surveying
Leak tracking and problem sourcing
Preventive maintenance programming and planning
Warranty auditing and quality control
Monitoring re-roofing and repair work
Easy and safe to use
Work in normal daylight hours
Much faster and more user friendly than nuclear method
No regulatory restrictions or operating license required
The Tramex Dec Scanner is supplied as a complete kit including:
Tramex Dec Scanner
Aluminium flight case
Batteries
Shoulder strap
Survey pad
Instructions
| | |
| --- | --- |
| Construction | Strong ABS body on aluminium frame to give light weight yet extra strength and durability |
| Wheels | 6" (150 mm) treaded for ease of movement over all surfaces |
| Power supply | Utilises two 1.5 D cell batteries |
| Dimensions | 760 x 440 x 200 mm (W x D x H) |
| Weight | 10 kg without case, 20 kg with case |
| Limitations | EPDM and other conductive roofing |