PSE Torque Limiting Screwdriver
The PSE was designed and manufactured to meet or exceed the accuracy and repeatability requirements of ISO 6789: 2003 (+/- 6% of setting).
Various models that range from 0,5 cN-m till 13,5 N-m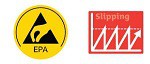 A specially designed ergonomic grip combined with a smooth reset action reduces operator fatigue
Precision radial ball clutch "slips-free" when the preset torque is reached preventing over-torquing.

Tamper-proof internal adjustment. No external adjustment scale - must be preset using a torque analyzer.
All models provide bi-directional operation.

Each screwdriver model is only available in package quantity of 10 units.
Calibration label supplied in 4 colors, which can be used to mark pre-set details, date, etc.
Model
American
S.I.
Metric
Drive
PSE25
0.7 – 35 ozf.in
0.5 – 25 cN.m
0.05 – 2.5 kgf.cm
1/4" F/Hex
PSE150
3 ozf.in – 13 lbf.in
2 – 150 cN.m
0.2 – 15.3 kgf.cm
1/4" F/Hex
PSE450
8 ozf.in – 40 lbf.in
6 – 450 cN.m
0.6 – 45.8 kgf.cm
1/4" F/Hex
PSE1350*
10 – 120 in.lbs
100 – 1350 cN.m
10.5 – 138 kgf.cm
1/4" F/Hex
All models are supplied with 10 pcs screwdrivers (same model), 10 pcs individual tool calibration certificates, torque adjusting key and 40 pre-set labels.
*Supplied with 1/4" Sliding T-BAR
Accurate process control is ensured by eliminating under and over tightening
Wide range of torque applications by offering both bi-directional and one way slipping actions
Ideal for safe electronic component assembly as this tool is EPA compliant for use in Electrostatically Sensitive Areas
Increased production efficiency by reducing operator fatigue due to a specially designed ergonomic hand grip combined with a smooth tool rest action
| | |
| --- | --- |
| Repeatability | +/- 6% of reading |
| Classification | ISO 6789:2003 Classification 2F |
| Compliance | EPA Compliant |
All mentioned prices are excluding VAT & excluding shipment costs.
Availability: Available , preorder 1-2 weeks , special order, request