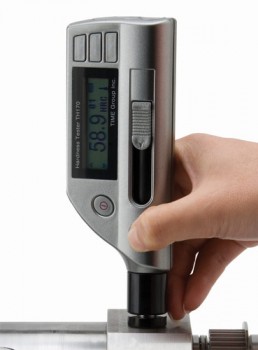 Click on an image for a larger image
Impact Portable Hardness Tester
Three different models:

Impact D
Standard model

Impact DL
Special model for Hardness Measurement in extremely confined spaces

Impact C
Special model for Hardness Measurement on surface hardened components, coatings, thin walled components. It has app. 1/4 impact energy of Impact D and Impact DL.

The Impact is a handy portable hardness tester with an integrated impact device. It can be used in any position, even upside down. Readings can be printed out immediately on a mini-printer or stored for later processing.

How can you benefit from the Impact?
The small portable Impact hardness tester with integrated impact device is designed for an extremely wide range of applications. It is especially recommended for Hardness Measurement on the shop floor. The outstanding features of the Impact include speedy and exceptionally user-friendly operation and high measuring accuracy, with an extremely low tolerance of ± 1.5%.

The hardness tester functions by releasing a small impact device on to the metal testing surface by means of a spring mechanism. The gauge's dynamic measuring procedure works by calculating the difference between the impact velocity and the rebound velocity of impact device.

The Impact hardness tester can be used on a whole variety of metals. A statistics program calculates the mean hardness value from a number of single readings.

Hardness Measurement on metal substances such as:

Steel, cast steel, cold work tool steel, stainless steel, grey/nodular cast iron, aluminium, cast aluminium alloys, brass, bronze and wrought copper alloys

Typical applications of the Impact include:
- large, heavy components or fixed machine parts
- serial products during the production process
- material identification in storage
- measurement on locations with difficult access

Conditions required for measurement:
- Minimum measuring area 10 mm x 10 mm
- Minimum curvature radius r of the measuring area, 30 mm, without adapter.
- Minimum curvature radius with screw-on V-adapter, 11mm.
- Samples weighing less than 5 kg and samples less than 5 mm thick should be placed on a solid base to prevent vibration.
- Samples weighing less than 2 kg should be fixed to a solid base with coupling paste.


Handheld dynamic metal hardness tester
Impact device integrated; no cables!
Direct display of hardness scales Rockwell HRB, HRC, Vickers HV, Brinell HB, Shore HS, HL
Provides testing at any angle, even upside down!
High accuracy
Dynamic rapid hardness test procedure
Wide measuring range
For all metallic materials
Simple handling and low test expenditure
Clear LCD display showing all functions and parameters
Confirming to ASTM A 956
Data output RS232 (Dataview software optional)
Optional printer available

The Impact hardness tester will be delivered including:
- Hardness tester
- Test block with HLD value
- AAA Batteries (2pcs)
- Support ring small
- Cleaning brush
- Coupling paste
- USB communication cable
- Manual
- Certificate
- Carrying case


Impact device:
D (standard) integrated
Workpiece radius (convex/concave):
Rmin = 50mm (with support ring Rmin = 10mm)
Workpiece maximum weight:
2kg on solid support (0.1kg with couplant paste)
Workpiece min. thickness coupled:
3mm
Workpiece min. case hardened depth:
0.8mm
Impact device:
C integrated
Workpiece radius (convex/concave):
Rmin = 50mm (with support ring Rmin = 10mm)
Workpiece maximum weight:
0.5kg on solid support (0.02kg with couplant paste)
Workpiece min. thickness coupled:
1mm
Workpiece min. case hardened depth:
0.2mm
Impact device:
DL integrated
Workpiece radius (convex/concave):
Rmin = 10mm
Workpiece maximum weight:
2kg on solid support (0.1kg with couplant paste)
Workpiece min. thickness coupled:
3mm
Workpiece min. case hardened depth:
0.8mm
Workpiece max. hardness value:
940HV
Measuring range:
HRC: 20 to 68
HRB: 13 to 102
HRA: 59 to 86
HB: 30 to 680
HV: 80 to 970
HS: 32 to 100
HL: 200 to 900
Accuracy:
Within ± 0.5% (at HLD = 800)
Measuring tolerance:
± 1.5 %
Statistics:
mean value, number of readings
Print-out of readings:
simultaneous or batch printing, with attachable mini-printer
Data memory:
the first 99 readings
Power:
Rechargeable battery NiMH 3.6V, 70mAh
Charger:
9V, 200mA (1.8VA)
Operating temperature:
5 °C to 50 °C
Dimensions:
150mm x 22mm x 53mm
Product name
Price
Quantity
All mentioned prices are excluding VAT & excluding shipment costs.
Availability: Available , preorder 1-2 weeks , special order, request