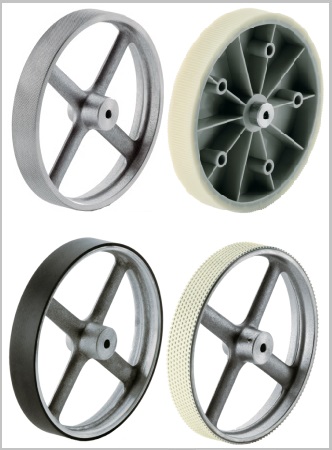 Click on an image for a larger image
MR Series 5 IVO Measuring wheels (50 cm circumference)

When selecting a measuring wheel, consider the type of goods to be measured before you choose the surface properties or the lining of the measuring wheel. The circumference of the measuring wheel should be chosen according to the available space and size of the counter. The smaller the measuring wheel, the more force will need to be exerted on its circumference and the greater the probability of drift leading to false results. The width of the measuring wheel also influences the measuring result.

0.5m circumfence
5 different lining versions:

Aluminium, Cross knurl
Smooth Vulkollan
Knopped rubber
Smooth Hytrel
Grooved Hytrel

3 bore size diameters; 7mm, 10mm and 12mm.
The measuring accuracy of a meter counter with measuring wheel depends on the following features:

Type of products to be measured
Angle of contact
Torque of counter or encoder
Feeding speed of products
Tensile stress of products to be measured
Surface roughness
Contact pressure of products to be measured against measuring wheel
Suppleness of products to be measured
Diametrical tolerance of measuring wheel
Suitable products to be measured
| Recommended liming | Suitable material |
| --- | --- |
| MR592 - Grooved Hytrel | Plastic, Painted material, Paper, Cardboard, Wood, Metal, Textile |
| MR542 - Smooth Hytrel | Plastic, Painted material, Paper, Cardboard, Wood, Metal, Textile |
| MR512 - Cross knurl | Cardboard, Wood, (Textile) |
| MR562 - Knopped rubber | Textile |
| MR552 - Smooth Vulkollan | Plastic, Painted material, Paper, Cardboard, Wood, Metal, Wire |
All mentioned prices are excluding VAT & excluding shipment costs.
Availability: Available , preorder 1-2 weeks , special order, request