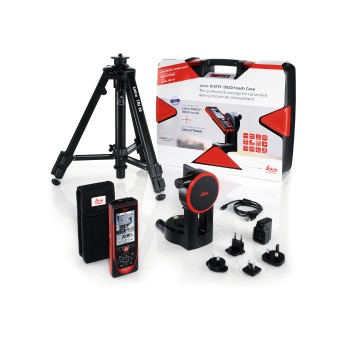 Click on an image for a larger image
Disto D810 Touch Pro Pack - Including tripod, fine tune adaptor and hard case
The Leica DISTO D810 Touch Pro Pack is the complete set to optimize the use of the D810 laser distance meter. The Pro Pack includes the Leica DISTO D810 Touch, the Leica FTA360 Fine Tune adaptor and the Leica TRI 70 tripod. The Pro Pack, including its accessories, comes in a Leica hard case.
FTA 360 Fine Tune Adaptor
Apply the adaptor to the tripod and the LDM, and it's ready to be used. After shooting the laser dot, adjust its location by togglying the vertical and horizontal knobs of the FTA 360.
TRI 70
The tripod creates a steady base for the LDM, to keep it still. The TRI 70 can be height-adjusted, ranging from 0.40 to 1.15 m.
TRI 70 Tripod
FTA 360 Fine Tune Adaptor
Disto D810 Touch
Integrated camera
Pointfinder with 4x zoom
360° tilt sensor
Smart Horizontal Mode
Height tracking
Height Profile tracking
Sloped object measurement
Intelligent end-piece
Bluetooth Smart (4.0)
The Leica DISTO D810 Pro Pack is delivered as a complete kit including the following items:​
D810 Touch LDM
Holster
USB charger with 4 plugs
Tripod
Adaptor
Leica Carrying Case
| | |
| --- | --- |
| Accuracy | ± 1.0 mm |
| Measuring Range | Up to 200 mm |
| Measuring Units | m, ft, in |
| Power Range Technology | Yes |
| Pointfinder with 4x zoom | Yes |
| Overview Camera | Yes |
| Photograph file format | .jpg |
| Memory | Last 30 displays |
| Windows Software | DISTO Transfer with AutoCAD plugin |
| Free software for Windows | Yes |
| Free App | iOS / Android |
| Data Interface | Bluetooth V4.0 Smart |
| Measurements per set of batteries | Up to 4,000 |
| Multifunctional end-piece | Automatic Recognition |
| Batteries | Li-ion rechargeable |
| Protection Class | IP 54 - splash water / dust proof |
| Dimensions LDM | 164 x 61 x 31 mm |
| Weight with batteries | 238 g |