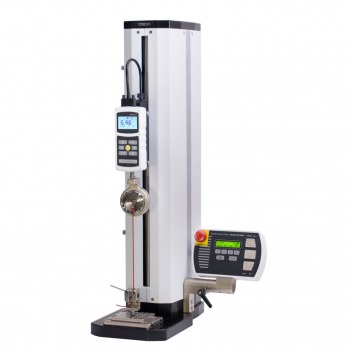 Click on an image for a larger image
WTT-ESM Motorized Wire Terminal Tester with Programmable Active Force Control

The WTT-ESM303E Motorized Wire Terminal Test System is a precision testing solution for wire terminal testing applications up to 1.5 kN.
This system is specifically designed for meeting ASTM test standards that require a test sample to maintain a specific load for a set interval (typically 1 minute).
Standard USB and RS232 output allow operators to transfer data to a PC or data collection system.
LCD display with UP, DOWN, STOP and emergency stop buttons and soft keys
RS-232, Mitutoyo and analog outputs
Performs Test Procedures According to UL486A and SAE/USCAR-21
Integrated travel limit switches
Removable fixture mounting plate with matrix of threaded holes
Mounting holes for bench mounting
Password protection of test parameters, to prevent unauthorized changes
Stepper motor-driven, produces 0% speed variation load
Unique mechanical design significantly reduces column blending
3 Year Warranty
CE Certified
Capacity
Up to 24 in / mm: 300 lbF / 1.5 kN
>24 in / mm: 200 lbF / 1 kN
Standard Speed Range
0.6 - 13 in/mm (13 - 330 mm/min)
Maximum Travel
11.5 in (292 mm)
Speed Setting Accuracy
±0.2%
Speed Variation with load
±0% (Stepper motor driven)
Limit switch repeatability
0.001 in (0.03 mm)
Power
Universal input 80-240 VAC, 50/60 Hz
Weight (without options)
14,5 kg (32 lbs)
Included accessories
Ext. rod, small hook, medium hook, #10-32 coupler, compression plate, gauge mounting hardware, tool ki
The WTT-ESM-STD is sold as a complete test system that includes the following items;

1. ESM-303E ESM-303E Programmable Test Stand
2. Series 4 Digital Force Gauge
3. G1076 - Wire Terminal Grip
4. G1002 - Wire Cam Grip
*Additional 09-1214 cable required

The WTT-ESM-ADV also includes:

5. 09-1214 - Mulfi-function cable, gauge to ESM303
6. AF014 - Cycling / dwell time
7. AF020 - Load Holding
8. Series 5 Digital Force Gauge instead of the M4 Force Gauge Supplied with WTT-ESM-STD
Series-5 Advanced Digital Force Gauge
High-speed 7,000 Hz peak sampling rate
USB, RS-232, Mitutoyo, and analog outputs
More details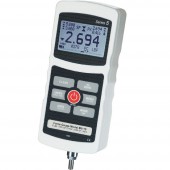 ESM303 Motorized Teststand with PC Control
Selectable speed setting
Stepper motor-driven, producing smooth and quiet operation with no speed variation under load
More details